markets
Exelon's Most Infamous Nuclear Power Plant Is Stuck in Limbo
By
Exelon considering ways to stem losses at Three Mile Island

Plant was site of worst accident in U.S. nuclear power history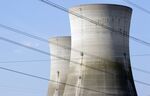 As Exelon Corp. shutters some of its nuclear reactors and keeps others running amid competition from cheap natural gas, its most notorious plant remains in limbo: Three Mile Island.
Exelon is considering steps that might stem losses at the Pennsylvania power station, Chief Executive Officer Chris Crane said in an interview Wednesday. Three Mile Island failed to win contracts in the last two regional auctions for electric generating capacity. The plant has had only one reactor operating since 1979, when Unit 2 partially melted down during the worst accident in the history of U.S. commercial nuclear energy.

Exelon's fleet of nuclear plants, the nation's largest, have come under competitive pressure from renewable energy and a flood of natural gas from shale formations. The gas glut has sent prices for the fuel tumbling, pummeling nuclear generators amid weak demand and rising operational costs.
"We hope something comes to fruition before more plants get shut down," Crane said Wednesday at the company's analyst day in Philadelphia.
The company plans to close the Clinton and Quad Cities plants in Illinois after they lost $800 million over the past seven years and state lawmakers failed to pass legislation to raise the reactors' revenue. While the process of closing the plants has begun, the decision could be reversed as late as December if a bill is passed. Lawmakers are scheduled to meet for six days after this year's election, Crane said.
Exelon will keep two of its New York plants operating and buy a third from Entergy Corp. after state regulators approved nuclear subsidies totaling about $500 million year, the company said earlier this month. The financial aid is based in part on the U.S. government's estimate of the social cost of heat-trapping carbon dioxide emissions, a formula that might be applied in other states or in wholesale power markets, Crane said.
Before it's here, it's on the Bloomberg Terminal.
LEARN MORE