Europeans Aren't Staying Up to Watch Gymnastics From Rio Games
by and
Time difference hinders Olympic TV viewing in Germany, Spain

BBC says more people gain digital access to sporting events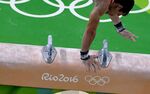 European TV viewers are watching less of the Summer Olympics from Rio de Janeiro than from London four years ago, as time-zone differences push events into the wee hours.
The 2012 games in London delivered 39.2 million U.K. viewers over its opening weekend. The drop-off for Rio, four time zones away, was 37 percent, according to the BBC. For much of continental Europe, where the time gap is an hour longer, the opening ceremony started after midnight -- with similar audience declines in Spain, Germany, Italy and the Netherlands.
The flaccid totals so far point to the risks to broadcasters of paying ever-rising prices for Olympics rights. Viewership bounces around depending on the territory, and the next three games are in Asia -- South Korea (winter 2018), Tokyo (summer 2020) and Beijing (winter 2022) -- an even greater time difference with Europe.
Time Shift
Late broadcast dampens viewing of Rio's opening ceremony
| | | | | |
| --- | --- | --- | --- | --- |
| Country | Germany | Netherlands | Spain | |
| Rio vs London | -76% | -84% | -84% | |
*Source: Broadcasters
European rights move to Discovery Communications Inc. for the 2018 games. Discovery paid 1.3 billion euros ($1.4 billion) last year for four Olympics through 2024, for which the host city hasn't been selected. While Discovery has sublicensing deals, it's also trying to build an audience for its Eurosport channel.
Calls and e-mails to Michelle Russo, a Discovery spokeswoman, weren't returned.
The advantages of a European location are apparent when Rio and Beijing in 2008 are compared with Athens in 2004 and London in 2012. The first two days of action in Rio were seen by 1.09 million Dutch viewers -- about the same as Beijing but down 27 percent from London. The opening-ceremony audiences of 3.9 million in Athens in 2004 and 2.8 million in London in 2012 dwarf the 2 million total for Beijing in 2008 and Rio's 426,000.
Italian TV viewership is down 15 percent for Rio compared with London four years ago, said Francesco Siliato, a media analyst at Studio Frasi who cited figures from researcher Auditel. The games are being shown by state-owned broadcaster RAI this time, while Sky and Eurosport had them last time.
"Generally speaking, the night-time program schedule hurts the Olympics' audience in Italy," Siliato said, noting that RAI has gained viewers from 2012. In the first four days, 52 percent of Italians watched the Olympics for at least one minute, Siliato said.
In Germany, 1.87 million people watched the opening ceremony in Rio, down 76 percent from four years ago, according to media and advertising portal Werben & Verkaufen. The drop was steeper in Spain, where fewer than a million viewers watched this time, compared with 5.67 million for the opening ceremony of the London Olympics. The 21.8 percent market share was the lowest since 1992, according to state-owned RTVE, which is broadcasting the games.
As in the U.S., where prime-time audiences are also down, there is rising viewership on digital platforms. On Monday, a record 15.2 million Web browsers visited the BBC Sport site, which includes streamed video footage from the Games, the state-owned broadcaster said.
"It's just a different way of consuming it, because of the time zones," said Michelle Eagleton, a spokeswoman for the BBC. "Obviously there'll be a shift in the audiences because of that."
Before it's here, it's on the Bloomberg Terminal.
LEARN MORE