Emerging Assets Advance as Fed Timing Outlook Weakens Dollar
by
South African rand rises to highest level since October

Many investors betting on a 'strong rally': Credit Agricole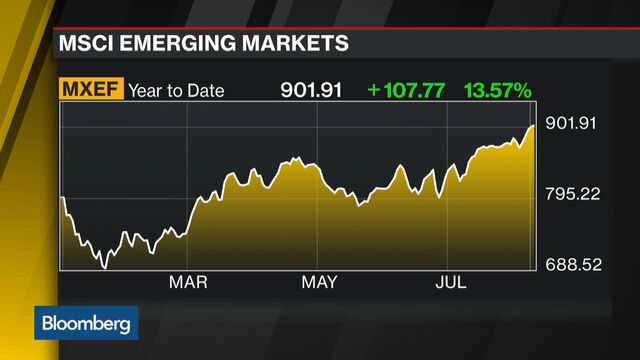 Emerging-market currencies and bonds rallied as traders pushed back estimates for when the Federal Reserve will increase U.S. interest rates, bolstering demand for higher-yielding assets.
Most developing-nation currencies strengthened against the dollar, led by Colombia's peso and the South Korean won. South Africa's rand gained for a third day. China's yuan rose the most in two weeks. Government bonds rallied, with Polish and South African 10-year yields dropping to the lowest level this year. The rate on similar-maturity Indian notes fell to the lowest since 2009. Emerging-market stocks climbed to the highest since July 2015.

With average bond yields above 4 percent, emerging markets have become a refuge for investors seeking an alternative to near-zero rates in much of the developed world. Continued loose monetary policy from the European Central Bank and U.S. Federal Reserve will ensure emerging-market assets continue to be supported, Goldman Sachs money manager Owi Ruivivar said in an interview. Traders have trimmed the probability of a Fed increase by the end of the year to 41 percent, from 47 percent on Aug. 5.
"Emerging-market sentiment has really turned positive and now a lot of people are betting on a strong rally," said Guillaume Tresca, a senior strategist at Credit Agricole CIB in Paris, who recommends buying the Hungarian forint and Polish zloty. "With low volatility, the environment is good for carry trades, which is why the South African rand and Turkish lira are performing strongly."
Traders who borrow in dollars to invest in debt of higher-yielding currencies have taken home 9.4 percent from South Africa in the past month, the most worldwide.
The MSCI Emerging Markets Currency Index rose 0.5 percent, extending a rally in the past five days to 2 percent. The equity benchmark gained 0.3 percent to 902.99.
Currencies
The South African rand advanced 1 percent to the strongest level against the dollar since Oct. 16. Moody's Investors Service said on Monday results from municipal elections may create the opportunity for the country to escape from low growth. Citigroup Inc Strategist Luis Costa said cheaper commodity prices are also supporting the rand.
"There is a nice mix going on for the rand of slightly lower oil and some steady price action in iron ore, platinum and even gold," Costa said in an interview on Wednesday with Bloomberg TV.
Turkey's lira climbed for a fifth day, gaining 0.3 percent to the highest level in three weeks. Turkish President Recep Tayyip Erdogan and his Russian counterpart Vladimir Putin agreed to deepen economic cooperation during a meeting on Tuesday as they seek to restore ties that soured after a deadly encounter between their air forces last year.
The yuan strengthened 0.3 percent on bets China's policy makers are focusing on exchange-rate stability as the economy shows increasing signs of a recovery. The won appreciated 1.1 percent after S&P Global Ratings raised South Korea's credit rating one level on Monday to AA, the third-highest investment grade.
The dollar dropped against its major counterparts for a second day, retreating 0.4 percent to the lowest since June 23.
Bonds
Poland's 10-year bonds advanced for a second day, with the yield dropping two basis points to 2.68 percent, the lowest level since Dec. 2. The rate on similar-maturity South African bonds fell nine basis points to 8.45 percent, the least since Nov. 24. India's 10-year bonds advanced for a second day, with the yield dropping two basis points to 7.1 percent.
The premium investors demand to own emerging-market bonds rather than U.S. Treasuries rose two basis points to 348, according to JPMorgan Chase & Co. indexes.
"We have been incredibly constructive on emerging-market fixed income," said Goldman's Ruivivar, who co-manages the $5.7 billion GS Emerging Markets Debt Portfolio that has gained 13 percent in the past year. "We're in an environment where you've got liquidity for longer in the developed world."
Stocks
Eight of the 10 emerging-market equity industry groups rose, led by consumer-staple and utility companies. Benchmark equity indexes rallied 1.7 percent in Vietnam and 1.1 percent in Egypt.
"As rate-increase expectations get moved further out, equities tend to rally as investors are forced to move further out the risk curve," Logan Best, vice president for securities trading at INTL FCStone Financial Inc. in Winter Park, Florida, wrote in an e-mail.
Before it's here, it's on the Bloomberg Terminal.
LEARN MORE