Christie Aide Claims Governor 'Lied' to Media in Bridge Case
By
Text exchange included in filing by ex-ally charged in case

Aide said Christie 'just flat out lied' in his denials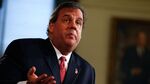 New Jersey Governor Chris Christie "flat out lied" in a news conference when he said his senior staff and campaign manager weren't involved in the George Washington Bridge scandal, an aide texted to a colleague at the time, according to court papers.
The aide, Christina Renna, texted as Christie spoke on Dec. 13, 2013, and denied his top staffers and former campaign manager Bill Stepien closed lanes near the bridge in September of that year as an act of political retribution, according to a filing by an ex-ally under indictment.
"Are you listening?" Renna texted, according to the filing. "He just flat out lied about senior staff and Stepien not being involved."
After another aide responded, Renna texted: "Yes. But he lied. And if e-mails are found with the subpoena or ccfg e-mails are uncovered in discovery if it comes to that it could be bad."
"CCFG" is an apparent reference to Chris Christie For Governor Inc. 
Christie disputed Renna's assertions after a radio appearance in New York.
"I absolutely dispute it," Christie told reporters. "It's ridiculous. It's nothing new. That's it, there's nothing new to talk about." Asked if the assertions anger him, he said: "Of course it angers me."
'She Was Wrong'
"She was wrong," Christie said. Asked why Renna would say he was lying, he said: "How would I know?"
Christie spokesman Brian Murray said in an e-mail: "The governor's statements have been clear. Nothing contained in this text message changes that in any way. He stands by those statements completely and unequivocally."
Renna could be a key prosecution witness at a trial next month of two other former Christie aides, and defense attorneys might use the text exchange to try to undermine her credibility. Her attorney, Henry Klingeman, said in an e-mail that she "will answer questions when she testifies at the upcoming trial, not before."
QuickTake Q&A: A 2013 Traffic Jam That Still Dogs Chris Christie
Christie, now also a senior adviser to Republican presidential nominee Donald Trump, has denied he had any knowledge of the Bridgegate scandal when it occurred. Christie fired an aide, Bridget Anne Kelly, in January 2014 after disclosure of an e-mail she wrote a month before the lane closings that said: "Time for some traffic problems in Fort Lee."
The text exchange was included in a filing Wednesday by lawyers for Bill Baroni, a former ally indicted with Kelly on charges that they created traffic jams near the bridge to punish the mayor of Fort Lee, New Jersey, for failing to endorse the governor's re-election. At the time, Kelly was Renna's supervisor in Christie's Office of Intergovernmental Affairs.
When he fired Kelly, Christie also severed ties with Stepien, who wasn't charged with a crime. Stepien's attorney, Kevin Marino, said Renna testified to a state legislative committee investigating the scandal and "in no way, shape or form did she suggest that Mr. Stepien was knowledgeable about or involved in the Bridgegate affair."
'Not Involved'
"Mr. Stepien was investigated for 16 months and was not charged with wrongdoing by anyone," Marino said in an interview. "I can say with confidence that Bill Stepien was not involved in the Bridgegate affair, and any suggestion that he was is simply false."
Baroni and Kelly, who have both pleaded not guilty, appeared in federal court in Newark, New Jersey, on Tuesday and a judge scheduled their trial to begin on Sept. 19.
Renna's text exchange occurred when Christie was asked about the bridge scandal, according to the court filing. Christie was asked if he could "say with certainty that someone else didn't on your staff or in your administration act on your behalf for the lane closures for political retribution."
Christie responded: "Yeah, I have absolutely no reason to believe that, Angie, and I've made it very clear to everybody on my senior staff that if anyone had knowledge about this that they needed to come forward to me and tell me about it, and they've all assured me that they don't."
Christie's Stance
The governor was then asked about his campaign chief.
"Oh yeah," Christie said. "I've spoken to Mr. Stepien, who's the person in charge of the campaign, and he has assured me the same thing."
In May 2014, Renna testified to lawmakers who were investigating the lane closings. Prosecutors say the gridlock over four mornings was intended to punish Fort Lee Mayor Mark Sokolich. Renna testified Kelly asked her to delete an e-mail during the middle of the lane closures, when Sokolich called to say he was "extremely upset."
Kelly wrote: "Good."
Renna told the panel that the request, on Dec. 12, 2013, was "strange" and "paranoid." The text exchange took place a day later.
Renna said she "wanted to sleep on the request," and deleted the e-mail 15 hours later, after forwarding it to a personal account.
Self-Protection
"I wanted to be able to tell her in good faith that I did what she asked me to do," Renna said. "But I wanted to protect myself as well."
Prosecutors cited Kelly's request to Renna to delete the e-mail in their indictment. 
Baroni's attorney, Michael Baldassare, included Renna's text exchange in a filing asking the judge to exclude evidence that he considers irrelevant. He said prosecutors will introduce that evidence "while ignoring such texts (of which there are many)."
Baldassare said that Renna, who has left the governor's office, apparently deleted the text exchange despite receiving subpoenas from the Legislature. He said that documents produced by the colleague she texted, Peter Sheridan, included the exchange.
Missing Texts
"All available information strongly indicates that Ms. Renna deleted those texts and never turned them over to the Legislature or the U.S. Attorney's Office," Baldassare wrote. She failed to produce texts from Oct. 26, 2013, to Dec. 19, 2013, he said.
Prosecutors intend to call Renna as a witness, Baldassare wrote. Defense lawyers would probably challenge her credibility based on her testimony to lawmakers in May 2014. 
Prosecutors, he said, are hoping defense lawyers won't figure out that Renna deleted the text exchange after being issued seven subpoenas and that she never told legislators about the texts.
Prosecutors alleged in a nine-count indictment that Kelly and Baroni misappropriated resources of the Port Authority of New York & New Jersey, which owns the bridge. They are also accused of defrauding the Port Authority of property rights and depriving the people of Fort Lee of their civil rights to travel without unreasonable government restriction.
A former Port Authority executive, David Wildstein, pleaded guilty and is cooperating with prosecutors.
The case is U.S. v. Baroni, 15-cr-00193, U.S. District Court, District of New Jersey (Newark).
— With assistance by Elise Young
Before it's here, it's on the Bloomberg Terminal.
LEARN MORE