Brexit Bounce a Disaster for Bears as S&P 500 Slips From Record
By and
Goldman Sachs index of most-shorted stocks surges this quarter

S&P 500 declines after closing at a record last Friday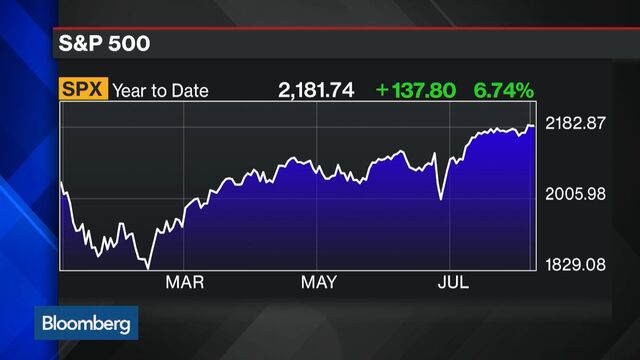 A year that's brought little but pain for bearish traders is getting worse.
Not only is the rising market punishing shorts, it's lifting their favorite targets at a rate that is by some measures three times as great as everything else. As a result, the 50 most-shorted stocks -- that is, the ones bears had bet would fall -- have instead rallied as much as 16 percent since the end of June, on track for the biggest quarterly gain in more than five years, data compiled by Bloomberg and Goldman Sachs Group Inc. show.
Unlucky stock selection is making a tough year worse for the group, who've watched the value of U.S. stocks swell by more than $2 trillion since late June. The S&P 500 Index pushed its gains to nearly 7 percent this year before the measure slipped 0.3 percent Wednesday to 2,175.49 at 4 p.m. in New York, about 0.3 percent from an all-time high.
From concerns Brexit would derail the global economy to a fifth straight quarter of earnings contraction and stretched equity valuations, investors had more than enough reasons to bet against U.S. stocks this summer. Those wagers have gone south as traders snapped up companies whose prospects are tied to an expanding economy, signaling expectations for continued central-bank support amid steady growth.
"This environment of low interest rates and excess capital availability provides significant danger to shorts in this market," said Walter Todd, who oversees about $1.1 billion as chief investment officer for Greenwood Capital Associates LLC in South Carolina. "This particular market has continued to grind higher, and it's never a good idea to short when things are relatively dull."

Investors have already started scaling back short positions as their effectiveness comes into question amid a market that's notched eight closing highs in the past month. Short interest on the SPDR S&P 500 ETF, which tracks the benchmark index, fell to an almost 20-month low last week. The measure now sits at 3.8 percent of shares outstanding, more than two percentage points below its two-year average.
Bears have pointed to equity valuations that sit at the highest in more than a decade on an estimated earnings basis, yet the S&P 500 Index pushed its advance since the post-Brexit selloff to nearly 9 percent. The index has recently received a boost from signs of economic expansion, highlighted by July payrolls data that beat estimates on Friday, bolstering confidence in the U.S. economy.
The pain subsided somewhat on Wednesday, as the Goldman index slipped 1.6 percent. The Dow Jones Industrial Average fell 37.39 points, or 0.2 percent, to 18,495.66, while the Nasdaq Composite Index lost 0.4 percent after closing yesterday at a record for the second time in three sessions. About 5.9 billion shares traded on U.S. exchanges, 16 percent below the three-month average.
Among shares moving, Exxon Mobil Corp. fell 1.8 percent to lead energy companies lower after crude tumbled on data showing an increase in stockpiles. Banks retreated as yields on the 10-year Treasury note slid on speculation the Federal Reserve won't rush to raise interest rates. Perrigo Co. plunged 9.6 percent to a five-year low after cutting its annual earnings forecast.
Ralph Lauren Corp. surged 8.5 percent, the most in nine months, after reporting a quarterly profit that exceeded analysts' estimates. Walt Disney Co. rose 1.3 percent, as Macquarie Capital upgraded the shares amid big steps the media giant is taking in online video to adapt to changing consumer viewing habits.
The rally that's propelled stocks higher since the days following the U.K.'s vote to secede from the European Union has recently lacked conviction, based on trading volume, with the number of shares changing hands on days the S&P 500 closed at a record 15 percent lower than the average up day. The index has been stuck in a range of about 40 points since July 8, going 23 days without a move of more than 1 percent in either direction, the longest such streak since 2014.
"There's a little bit too much complacency at this time," Dubravko Lakos-Bujas, head of equity strategy and global quant research at JPMorgan Chase & Co., said in an interview on Bloomberg Television. "There's a lot of expectation that's already priced into the market."
More than 90 percent of S&P 500 members have posted quarterly results this season, of which 78 percent beat profit predictions and 56 percent topped sales projections. Michael Kors Holdings Ltd., among four companies on the index reporting today, fell 2.8 percent after its quarterly comparable sales fell more than expected.
Analysts have tempered their estimates for a decline in second-quarter net income to 2.7 percent, from a 5.8 percent drop less than a month ago. Forecasts for the current quarter ending in September have turned negative, indicating a sixth consecutive period of falling profits, the longest since the financial crisis.