Brazil Senate Votes in Favor of Rousseff Impeachment Trial
By , , and
Temer's top adviser said 59-21 vote tally is sign of strength

The chamber could hold its final vote within a month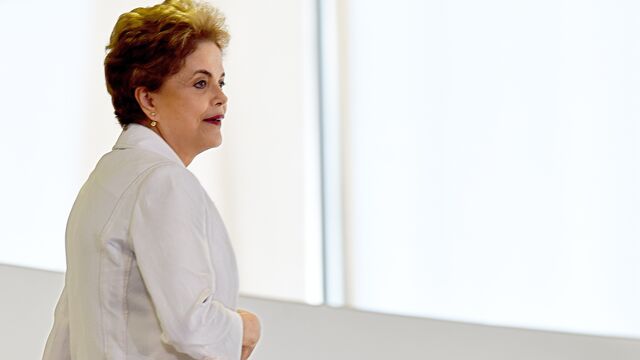 Brazil's Senate on Wednesday voted to put suspended President Dilma Rousseff on an impeachment trial that could seal her downfall and strengthen her successor's hand as early as this month.
Senators voted 59 to 21 in favor of trying Rousseff on charges she illegally financed government spending. The tally exceeded the 54-vote, two-thirds majority that will be needed to permanently remove her and confirm Acting President Michel Temer in office. That vote is expected for late August or early September. The result boosts the pro-impeachment camp, which in May garnered 55 Senate votes to start proceedings and suspend Rousseff.
"Investors are seeing that they not only have political support to remove Rousseff from office, but that they are still maintaining their coalition in Congress, and this is important for the fiscal agenda," said Roberto Padovani, chief economist at Banco Votorantim SA.
QuickTake Brazil's Highs and Lows
Markets have rallied since Temer took over three months ago on pledges to rein in a near-record budget deficit and adopt more business-friendly policies. Expectations that he would obtain a solid victory in the Senate this week further boosted investor sentiment. The real gained 0.6 percent on Wednesday and 27 percent so far this year, which makes it the best-performing currency tracked by Bloomberg.
For an in-depth look at investor sentiment in Brazil, click here.
Wednesday's voting margin "reflects the increasing confidence that all Brazilians have in the new government, which will go from being an interim to a confirmed administration," Temer's chief of staff, Eliseu Padilha, said in an interview.
Freer Hand
Temer aides say Rousseff's permanent ouster would give him a freer hand to push controversial measures that include setting a minimum retirement age and easing labor market regulations. The 75 year-old constitutional lawyer has said he may skip the Group of 20 leaders summit in China on Sept. 4-5 if the impeachment process isn't concluded by then.
Rousseff likens efforts to remove her to a modern-day coup, and often points out that she isn't charged with graft, unlike many of her accusers. Dozens of legislators in both chambers of Congress are under investigation for corruption. Anti-Temer protesters marched in 11 Brazilian states on Tuesday night, including Sao Paulo where thousands demanded the acting president's removal from office, according to O Globo newspaper.
The scandals have renewed debate about the need to overhaul the political system by implementing tougher laws on campaign financing, with Brazilians citing corruption as the country's biggest problem, according to a July Datafolha poll.
Before it's here, it's on the Bloomberg Terminal.
LEARN MORE