Brazil's Real Rallies as Senate Vote Pushes Impeachment Forward
by
Lower house approved bill to impose curbs on state spending

Inflation accelerated more than forecast by analysts in July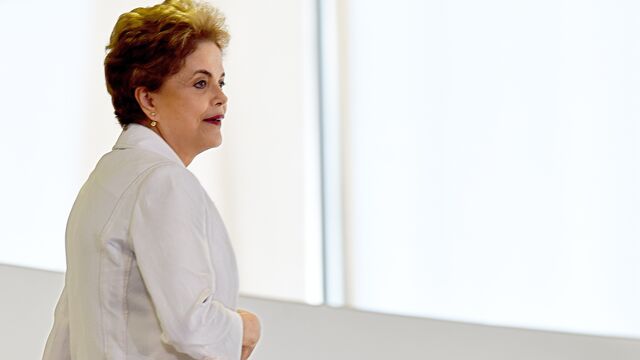 Brazil's real advanced after lawmakers voted to move forward with the impeachment of suspended President Dilma Rousseff while the lower house approved a measure to curtail state spending.
The currency rose 0.6 percent to 3.1274 per dollar Wednesday in Sao Paulo, extending this year's best-in-the-world advance to 27 percent. 
Senators voted 59 to 21 in favor of opening the final phase of the impeachment process, which exceeded the two-thirds threshold that will be needed to permanently remove Rousseff in the final trial slated for later this month or early September. The lower house of Congress approved government legislation that limits the growth of states' spending, supporting Acting President Michel Temer's efforts to repair the country's finances. The bill must be approved in the Senate before it can be signed into law.
"Less political uncertainty after the Senate approved the trial of the suspended president by a large margin is a positive factor," said Sacha Tihanyi, a senior emerging-market strategist at TD Securities in New York. "The vote on state spending is also a constructive development, so long as the government continues to show the willingness and capability to continue with the fiscal consolidation."
Temer's aides say Rousseff's permanent ouster would give him a freer hand to push potentially unpopular measures that include cutting pension payouts and deregulating labor laws. His administration was forced to make a concession with lawmakers to get the state's expenses bill passed, which will reduce its impact on spending.
Swap rates on the contract maturing in January 2017, a gauge of expectations for interest rates, rose 0.015 percentage point to 13.95 percent, as consumer inflation accelerated more than analysts estimated in July.
The benchmark IPCA consumer price index climbed 0.52 percent after a 0.35 percent rise the previous month. That was more than the median forecast for a 0.45 percent increase from 38 economists surveyed by Bloomberg. Twelve-month inflation decelerated to 8.74 percent, from 8.84 percent in June.
Before it's here, it's on the Bloomberg Terminal.
LEARN MORE