Brazil's Messy Impeachment Drama Almost Over. Markets Can't Wait
By
Final impeachment vote expected to come as soon as this month

Corporate and government debt seen rallying on Rousseff ouster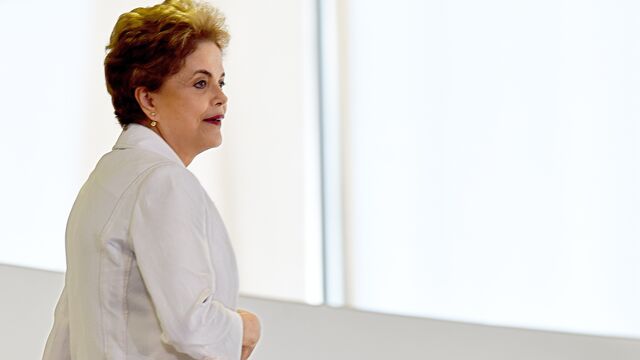 Even after Brazil outperformed almost all other major markets this year, analysts and fund managers say there's still room for further gains if suspended President Dilma Rousseff is impeached in coming weeks.
Rousseff's permanent ouster would clear the way for acting President Michel Temer to get on with the fiscal reforms investors have been pushing for. The Senate voted early Wednesday to put Rousseff on trial for allegedly breaking budget laws, and legislators say a final ballot could come as early as this month.
After taking over in May, Temer has yet to drive through any major policy proposals amid concern that painful spending cuts or unpopular reforms could weaken Senate support for his administration ahead of the impeachment vote. His economic team is expected to propose changes to social-security laws immediately after the ruling, and support for that and other measures will be an important indicator of whether Brazil's world-beating currency, bond and stock rallies have staying power.
Optimism about political change in Brazil "is somewhat being reflected in year-to-date momentum, but it's not completely priced in," said Sean Newman, a senior portfolio manager for emerging markets at Invesco Advisers in Atlanta.
Investors will likely remain bullish on Brazil's corporate and government debt throughout August, and credit default swaps may extend this year's gains once Rousseff is removed for good, he said. In the swaps market, the cost to hedge against losses on Brazil's bonds has fallen by almost half since February. The currency, meanwhile, has rallied 26 percent against the dollar, the most in the world, and the benchmark Ibovespa index's 68 percent increase in dollar terms in 2016 outperforms all other major benchmarks.
Political risk adviser Eurasia Group places the odds of Rousseff being impeached at 90 percent and said recent allegations that Temer may have received illegal campaign donations don't seem to have undermined his support. Two-thirds of the Senate needs to support the impeachment to permanently remove Rousseff.
Before it's here, it's on the Bloomberg Terminal.
LEARN MORE