Bonus Cuts for Traders, Dealmakers Won't Be as Deep
By
Compensation consultant Johnson Associates revises projections

'We're just not quite as negative as we were,' founder says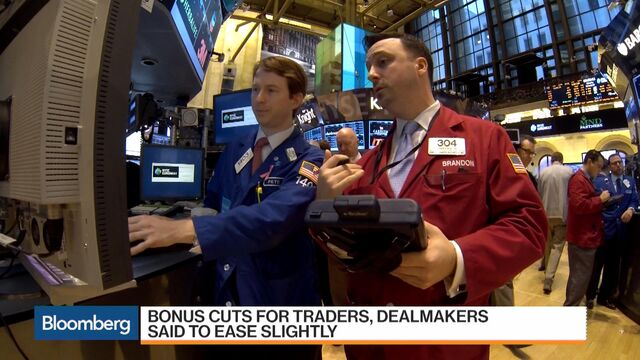 Bonus pools for many Wall Street traders and dealmakers this year may not shrink as severely as expected just a few months ago, according to compensation consultant Johnson Associates Inc.
Incentive pay for fixed-income sales and trading may fall 10 to 15 percent this year, Johnson said in a report on Wednesday. In May, it had projected the drop will be 15 to 20 percent. For bankers handling corporate deals, pay will probably decline 5 to 15 percent. That, too, is slightly more optimistic than May's estimate for 10 to 15 percent.
"We're just not quite as negative as we were two or three months ago," Alan Johnson, founder and managing director of the New York-based consultancy, said in a phone interview. The U.K. vote to leave the European Union, for example, may not erode revenue in the year's second half as much as previously thought, he said. "Things have stabled out some."
The less-bad outlook, no matter how incremental, is one of few positive signals recently for financial industry workers before managers make year-end decisions on compensation and staffing. Other signs are foreboding. Bank leaders have said they'll keep focusing on cost cuts to combat stalling revenue, while asset managers face customer ire for lackluster returns. That's been spurring firings and fund liquidations.
Three of the largest U.S. investment banks -- Goldman Sachs Group Inc., JPMorgan Chase & Co. and Morgan Stanley -- slashed first-half compensation by the most in at least four years, according to filings in July. Goldman Sachs cut the average first-half compensation it set aside per employee by 29 percent to $168,650 through June 30.
Johnson Associates warned in the report that the impact of Brexit remains uncertain, potentially driving up costs and crimping revenue, particularly in the U.K. and Europe. Companies are starting to figure out how they'll adjust their workforce, it said.