Alarmed Anti-Trump Republicans Sped Up Foreign-Policy Letter
By
Ex-officials wanted to transcend cocktail party 'grousing'

Trump said authors were architects of 'disastrous decisions'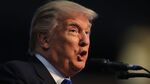 Plans to publish a letter by 50 former Republican national security officials criticizing Donald Trump were accelerated after a series of comments by the candidate in July sent alarm through much of the party's foreign policy establishment.
Former State Department legal adviser John Bellinger III, who served under President George W. Bush and organized the letter, said the missive was first targeted for September. That changed after Trump's attacks on the parents of a Muslim American Army captain killed in Iraq, his challenge to Russia to find deleted Hillary Clinton e-mails, his questioning of NATO's collective defense commitment and his praise for Russian President Vladimir Putin.
"People were just wringing their hands grousing at cocktail parties or occasionally making their own commentary," Bellinger said in an interview about the origin of the letter released this week. And then "we had the series of outrageous Trump statements all cascading in July."
The letter was published as Clinton's campaign accelerated efforts to recruit prominent Republicans who may be primed to defect and support her after Trump's rhetorical missteps and continued intra-party feuding.
'Dangerous Qualities'
The foreign policy letter, published Monday, faulted the Republican presidential nominee on his understanding of global affairs and said he "lacks the character, values and experience to be President." It went on to say he had "dangerous qualities" and "would be the most reckless president in American history."
The signatories spanned Republican administrations from Ronald Reagan to George W. Bush. They included former CIA Director Michael Hayden, former Director of National Intelligence John Negroponte, former Secretary of Homeland Security Tom Ridge, former deputy national security adviser Robert Blackwill and William H. Taft IV, who was Reagan's No. 2 civilian at the Pentagon and is the great-grandson of a Republican president.
Trump dismissed the letter, saying the officials who signed it were seeking publicity and "would have loved to have been involved in the campaign." He also blamed them for a series of crisis in the world.
"These insiders -- along with Hillary Clinton -- are the owners of the disastrous decisions to invade Iraq, allow Americans to die in Benghazi, and they are the ones who allowed the rise of ISIS," Trump wrote in a statement, referring to Islamic State terrorists.
Trump Supporters
Trump also posted a letter of support on Twitter from two retired military officers who are among his advisers, Lieutenant General Michael Flynn, the former director of the Defense Intelligence Agency, and Lieutenant General Keith Kellogg, who was commander of the Army's 82nd Airborne Division.
After first considering the anti-Trump letter in mid-July, Bellinger said he "put together a draft just last week" that was only slightly edited. He said he informed some of Clinton's national security advisers that the statement was in the works but said aides to the Democratic presidential nominee didn't have a hand in drafting it.
"I told them that we were doing it, and they gave me the names of people who had reached out to them," he said. "I'm sure they were happy to have it, but we wanted to try and make this be an independent effort."
As the letter progressed on a fast track last week, "there was very little nitpicking or meddling" with the content by those who signed it, Bellinger said. "We took out a couple of adverbs and adjectives that were more colorful, and then people wanted to make sure we agreed on the precise language" about Clinton.
The Republican letter says "we also know that many have doubts about Hillary Clinton, as do many of us. But Donald Trump is not the answer to America's daunting challenges and to this crucial election."
Bellinger said he wanted to get "very, very senior people who had been in the White House." Of 60 people Bellinger sent it to, 50 signed.
"I probably could have kept going but my purposed was to get critical mass" and "get it out," he said.
Before it's here, it's on the Bloomberg Terminal.
LEARN MORE