Adecco Profit Boosted by French Building, Car Industries
by
U.K., Ireland sales rise in spite of referendum uncertainty

Staffing company keeps previous outlook for Ebita margin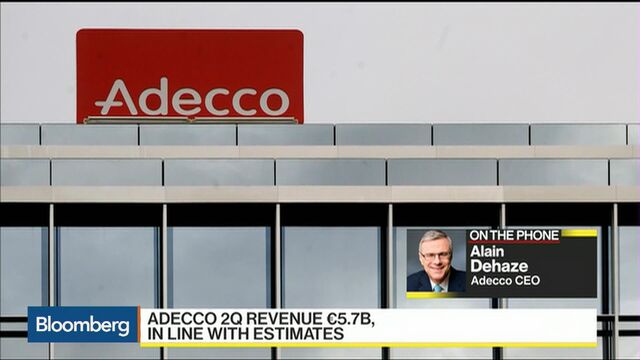 Adecco SA's second-quarter profit beat estimates as demand at the world's largest staffing company from France's construction and car industries offset the U.S. market, where companies held back from adding employees.
Net income increased 7 percent to 190 million euros ($212 million), the Glattbrugg, Switzerland-based company said in a statement Wednesday. Analysts on average expected net profit of 184 million euros, according to a Bloomberg survey.
"In the U.S., we had a softening of the growth and we see this trend continuing," Chief Executive Officer Alain Dehaze said in an interview on Bloomberg TV. The company doesn't see "any material impact" from the U.K. vote to leave the European Union.
The shares rose 1.8 percent to 55.70 Swiss francs at 9:53 a.m. in Zurich. Adecco has fallen 19 percent so far this year, making it one of the worst performers among the members of the Swiss Market Index, which declined 6.9 percent in the same period.

Adecco is seen as a bellwether for the global economy as companies use recruitment services to bring in temporary staff when business prospects are rising. The euro zone economy has sent some encouraging signals that challenges from Brexit to terrorism won't derail its modest recovery, with France, Adecco's largest market, set to return to growth this quarter.
Still, a new decline in oil prices is casting a shadow over an expected pick-up in inflation, while hiring in the U.K. has plunged in July the most in seven years. Adecco bought Penna Consulting Plc earlier this year for about 105.3 million pounds in an attempt to expand in the U.K., which together with Ireland, make up the firm's third largest market. The region posted a 6 percent increase in quarterly revenue to 571 million euros, as a rise in the IT sector offset a decline in finance and legal, the company said.
In France, second quarter sales increased 3 percent to 1.26 billion euros, while U.S. revenues declined 1 percent, according to the statement. Overall, sales rose 2 percent to 5.7 billion euros and Adecco reiterated its target for Ebita margin of between 4.5 percent and 5 percent on average through 2020, after cutting it at the start of 2016. At the end of June, the Ebitda margin rose 10 basis points, to 5 percent.
"We see a continuation of this modest growth in France," Dehaze said in the interview. "September is a very important month for industry in France because that's the moment when companies come back from holidays and we will have more visibility about the end of year."
Before it's here, it's on the Bloomberg Terminal.
LEARN MORE