'Peppa Pig' Owner Entertainment One Rejects ITV Takeover Bid
By and
ITV said attracted by EOne's content, distribution assets

Offer for 236 pence a share is 8.5% above Tuesday close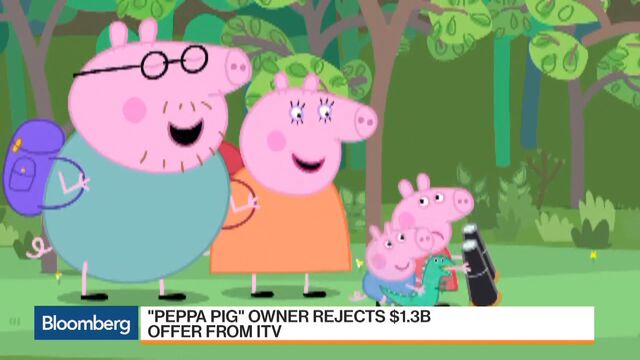 Entertainment One Ltd., the film and TV distributor known for popular cartoon character "Peppa Pig," rejected a takeover offer from ITV Plc that values the business at about 1 billion pounds ($1.3 billion), and suggested it's seeking a higher price.
The 236 pence-per-share proposal represents an 8.5 percent premium to Entertainment One's closing price on Tuesday. The Canadian company said the offer "fundamentally undervalues" Entertainment One and that ITV, a U.K. broadcaster, may come back.
"The ball is now in their court to come up with a better offer," Patrick Yau, a spokesman for Entertainment One, said by phone. "In the meantime, we're going to carry on with our business."
Entertainment One rose as much as 13 percent Wednesday, to above the offer price. The shares, which have soared more than 50 percent since Bloomberg News reported in April that ITV was pursuing a takeover, advanced 10 percent to 240 pence Wednesday in London.

"The proposal represents a significant premium over the undisturbed EOne share price, prior to the impact of recent bid speculation," ITV said in a statement. "The proposed combination with EOne has strong strategic rationale and would further accelerate ITV's rebalancing of the business."
A deal for Entertainment One could bolster ITV's efforts to remain independent, after it has been the subject of repeated rounds of takeover speculation, said Neil Campling, an analyst with Northern Trust Capital Markets. Entertainment One's board would probably be willing to accept an offer of around 290 pence per share, he said.
ITV has been looking at Entertainment One for several months, but there are internal divisions at the target over whether to explore a sale or pursue a standalone strategy, said a person with knowledge of the situation, who asked not to be identified discussing private negotiations. ITV is unlikely to pursue a hostile bid, the person said.
A purchase would be consistent with ITV Chief Executive Officer Adam Crozier's strategy of reducing the broadcaster's reliance on television advertising revenue. But Entertainment One's film-distribution business might not fit well, Campling said.
"I struggle to see where the synergies could come from," Campling said.
'Higher Price'
Entertainment One would bring to ITV the "Peppa Pig" franchise, with more than $1 billion in worldwide retail sales in 2015, as well as international distribution -- furthering the London-based broadcaster's expansion into production as it reduces its reliance on network advertising.
Livermore Partners, an activist hedge fund that acquired a stake in Entertainment One this year, said it favored an acquisition by ITV, but at a higher price.
"I believe price would be the only thing standing in the way here," Livermore Managing Director David Neuhauser told Bloomberg Television.
ITV, known for shows including "Downton Abbey," "Mr. Selfridge," and long-running soap opera "Coronation Street," has sought to bolster its production and distribution arm and expand beyond the U.K. A year ago, it bought Talpa Media Holding BV, the maker of "The Voice" reality singing show, and Mammoth Screen Ltd., which produces the drama "Poldark."
ITV rose 0.9 percent to 200.50 pence Wednesday for a market value of about 8 billion pounds.
Entertainment One distributes TV and films in Canada, Australia, the U.K. and U.S. and several European countries, and has worked with titles including Academy Award winner "Spotlight," "Fear the Walking Dead" and "The Hateful Eight."
In January 2015, the company bought 51 percent of Mark Gordon Co., producer of "Grey's Anatomy" and "Ray Donovan," for $132.6 million, and raised its stake in "Peppa Pig" creator Astley Baker Davies Ltd. to 70 percent in October 2015.
"Every broadcaster wants great content, so that puts the likes of us in a great position," said Entertainment One's financial director, Giles Willits.