Valeant Plans to Ask Lenders for Looser Terms on Debt Pact
By
'Cushion' not as large as company would like, CEO Papa says

Drugmaker remains in compliance with maintenance covenants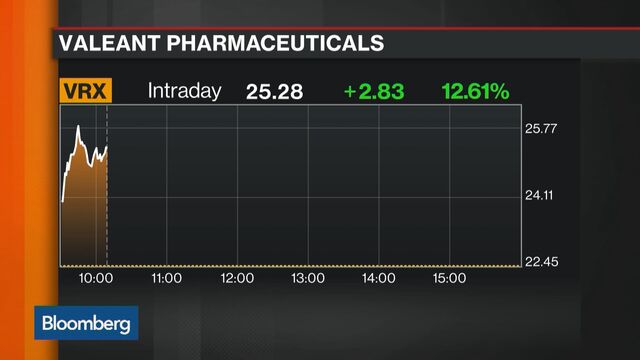 Valeant Pharmaceuticals International Inc. plans to ask lenders to loosen restrictions on its debt load shortly, Chief Executive Officer Joe Papa said Tuesday on a call discussing second-quarter results.
While the company is currently in compliance with financial maintenance covenants, "our cushion" is not as large as we would like it to be, Papa said. This will be the company's second time seeking covenant relief from lenders this year. In April, Valeant got creditors to relax its interest coverage maintenance covenant as part of a broader effort to amend its credit agreement and waive a default.
Some of Valeant's lenders are willing to loosen terms if they can secure a generous fee or a higher interest rate from the company, according to people with knowledge of the matter.
Valeant plans to ask for looser terms on the interest-coverage maintenance covenant as well as "other small changes" when it launches an amendment process later Tuesday, Linda LaGorga, Valeant's treasurer, said on the call.
The ratio was supposed to step up to 2.75 times starting in the second quarter, meaning Valeant had to generate at least $4.675 billion of 12-month Ebitda -- enough to cover its $1.7 billion of interest expense at least 2.75 times. Ebitda, a measure often used to asses how much cash a company can generate for debt payments, stands for earnings before interest, taxes, depreciation and amortization.
'More Comfortable'
"While it's a bit tight right now," LaGorga said, referring to Valeant's compliance with debt covenants, "with this additional cushion we think we'll be more comfortable going forward."
Despite missing estimates, the drugmaker maintained the financial forecasts it gave in June. Adjusted Ebitda for the year will be $4.8 billion to $4.95 billion, the company said.
The company's bonds jumped on the reaffirmed guidance. Valeant's most actively traded bond, $3.25 billion of 6.125 percent notes that mature in 2025, rose 3.375 cents on the dollar to trade at 85.75 cents and yield 8.48 percent at 12:03 p.m. in New York , according to Trace, the bond-price reporting system of the Financial Industry Regulatory Authority.
Not everyone is as sanguine. Valeant is sending mixed signals about its stability by reaffirming guidance but also pushing for more breathing room on its debt terms, Vicki Bryan, an analyst at debt-research firm Gimme Credit, said in a telephone interview.
"When you reaffirm guidance and now you say you think you're not going to meet interest coverage -- you're saying two things," Bryan said. "I'm still seeing a company that is in trouble enough that it has to go back and get bank covenants."