markets
Valeant Shares Have Record Day as Investors Get Relief, for Now
By
Shares rise a record 25 percent, bonds surge as well

Drugmaker maintains guidance, promises strategic overhaul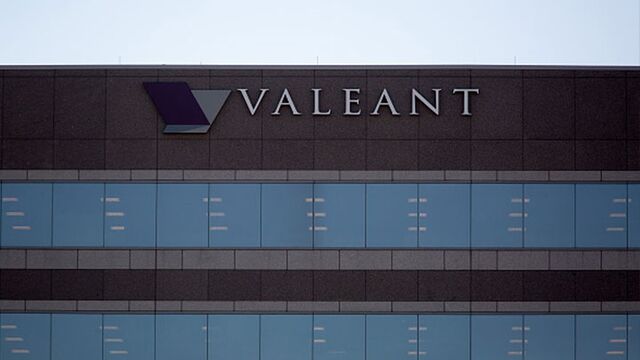 Valeant Pharmaceuticals International Inc. shareholders are finally giving the drugmaker a chance, at least until next quarter.
The stock had its biggest intraday gain ever Tuesday, after the company stuck with the full-year guidance it gave in June. Chief Executive Officer Joe Papa promised to renegotiate terms with lenders, said the company could sell about $8 billion worth of assets and announced a strategic reorganization.
Those moves will -- at least for now -- provide Valeant with relief from one of investors' biggest worries: that the Laval, Quebec, company would breach the terms on its more than $30 billion in debt, potentially setting off a chain of events that could be disastrous for shareholders.
"We are setting the company on a new path with new strategic imperatives," Papa said on a call with investors Tuesday.
The shares rose 25 percent to $28.05 at 3:29 p.m. in New York. Its most actively traded bond, $3.25 billion of 6.125 percent notes that mature in 2025, rose 4.25 cents on the dollar to trade at 86.625 cents at 3:08 p.m., according to Trace, the bond-price reporting system of the Financial Industry Regulatory Authority.
Not Out of the Woods
That doesn't mean that Valeant's volatile story is over. Even with Tuesday's gain's the stock is down 89 percent in the last 12 months. It closed at an all-time of $262.52 just over a year ago. And by keeping the financial guidance he gave in June, Papa has set a goal for the second half of the year that will require the drugmaker to substantially raise its sales and profits.
That's despite lackluster second-quarter results caused by declining sales and rising costs. Second-quarter profit, excluding some items, of $1.40 a share was less than the $1.47 average of analysts' estimates compiled by Bloomberg. Sales declined 11 percent to $2.42 billion, led by a drop in developed markets like the U.S. as the company faced pressure to cut prices and give larger rebates, Valeant said in a statement Tuesday.
David Maris, an analyst with Wells Fargo & Co., said he had doubts that the company can meet its goals.
"It appears achievement of that guidance is increasingly unlikely," said the analyst, who has an "underperform" rating on the stock. "Business trends are weak, debt is high, key management are leaving" and customers are getting smarter about pushing back on prices, he said.
Key Forecast Measure
One particularly important forecast measure is adjusted Ebitda, which investors use as a gauge of whether the company can pay back the bonds and loans it owes. Adjusted Ebitda for the year will be $4.8 billion to $4.95 billion, the company said. Ebitda stands for earnings before interest, taxes, amortization and depreciation. Valeant will have to have better sales, adjusted earnings per share and adjusted Ebitda in the second half of the year if it is to meet its targets.
| | | | |
| --- | --- | --- | --- |
| | First Half Total | Full-Year Forecast | Needed to Meet Forecast |
| Revenue | $4.79B | $9.9B - $10.1B | $5.11B - $5.31B |
| Adjusted EPS | $2.67 | $6.60 - $7.00 | $3.93 - $4.33 |
| Adjusted Ebitda | $2.10B | $4.8B - $4.95B | $2.70B - $2.85B |

"The team worked together to think through the headwinds and tailwinds" before deciding to reaffirm the guidance, Papa said in a telephone interview Tuesday.
"Going back over the last six years we've always had higher second-half sales versus the first half," Papa said. He said Valeant has also been working on the problems with its dermatology business and on improving its Salix unit's growth.
He also laid out a plan for future divestitures, proceeds from which could be used to pay down debt. The company is examining assets with revenue worth more than $2 billion, Papa said, that could be worth about $8 billion in a sale.
"This excludes our core assets," Papa said. "We don't have a plan to sell them -- we are exploring our strategic options with some bankers we've asked to help us."
Debt Terms
The company will soon start work to renegotiate the terms it has with lenders on its debt. While it hasn't broken its financial maintenance covenants, Papa said that the company's cushion was not as large as he would like.
"I believe this is one of the most important reasons our stock trades significantly below its intrinsic value," he said.
Papa said he expected Valeant would be fully compliant with its existing 2016 covenants but that increasing the cushion would allow investors to look past the company's debt problems and instead focus on the pipeline of new products and the turnaround in dermatology.
Under the strategic plan, Valeant will be reorganized into three parts: Branded Rx, Bausch & Lomb/International, and U.S. Diversified products. Many of the company's biggest drug categories saw declining sales, including in dermatology and prescription ophthalmology. Papa said the company is working to rebuild relationships with doctors and reduce employee turnover.
"I think it's premature to assume the company is out of the woods," Vicki Bryan, an analyst at debt-research firm Gimme Credit, said in a telephone interview. "They are still having to sell assets, revenue is still in free-fall, costs are still rising and we don't have a clear view of when operating trends will stabilize."
— With assistance by Michelle Davis
Before it's here, it's on the Bloomberg Terminal.
LEARN MORE