business
U.S. Productivity Unexpectedly Falls for Third Straight Quarter
By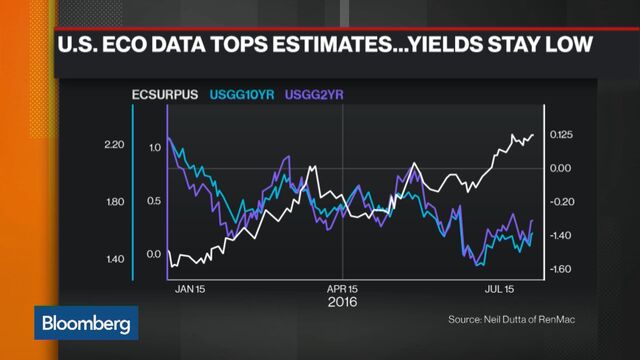 The productivity of American workers unexpectedly declined for a third straight quarter, deepening efficiency woes that have characterized the economic expansion.
The measure of employee output per hour decreased at a 0.5 percent annualized rate in the three months through June after dropping 0.6 percent in the prior quarter, a Labor Department report showed Tuesday in Washington. The median forecast in a Bloomberg survey called for a 0.4 percent gain. Expenses per worker climbed at a 2 percent pace after being revised to a decline in the previous period.
Productivity compared with a year earlier fell for the first time since 2013 as lackluster global markets prompted companies to scale back capital investment plans. In the face of deteriorating corporate profits and an absence of faster economic growth, the risk is that businesses may begin to ratchet back the hiring they've relied on to meet demand.
"Productivity continues to be quite disappointing," said Jim O'Sullivan, chief U.S. economist at High Frequency Economics Ltd in Valhalla, New York. "To the extent we do start seeing better GDP numbers, unless employment accelerates, we should start seeing better productivity numbers."
Economists' estimates for productivity ranged from a decrease of 0.4 percent to a 1.1 percent gain.
Labor Costs
Unit labor costs, which are adjusted for efficiency gains, were forecast to increase 1.8 percent in the second quarter, according to the Bloomberg survey median. In the prior quarter, they were revised to a 0.2 percent decrease from an initially reported 4.5 percent advance.
Adjusted for inflation, hourly compensation fell at a 1.1 percent rate in the second quarter, the most in two years, after dropping 0.4 percent in the first three months of 2016.
Worker efficiency fell 0.4 percent in the second quarter from the same time in 2015, while labor costs climbed 2.1 percent.

The second-quarter reading on productivity compares with the 2.6 percent average over the period spanning 2000 to 2007.
Among manufacturers, productivity declined at a 0.2 percent rate in the second quarter after a 1.5 percent gain.
Growth continued to disappoint in the second quarter. The economy expanded at a 1.2 percent annualized rate, according to Commerce Department data released July 29. Gross domestic product growth probably will pick up to a 2 percent rate by year-end, according to Bloomberg survey data.
Amid fragile global growth prospects and U.S. presidential election year uncertainty, the risk is that business investment continues to languish. That may bode ill for U.S. workers, whose potential for wage increases could suffer as companies look to get the most out of weak profits.
Some economists have suggested that the government's productivity data are outdated and insufficient in capturing changes in technology that have allowed for more progress. At the same time, the figures show that the economy's potential to grow without stoking inflation probably is limited.
Before it's here, it's on the Bloomberg Terminal.
LEARN MORE