economics
U.S. Treasury Yields Confound Analysts as Fed Rate Bets Revived
By
Ten-year yield above average year-end forecast for first time

Gauge of demand at 3-year note sale is highest since December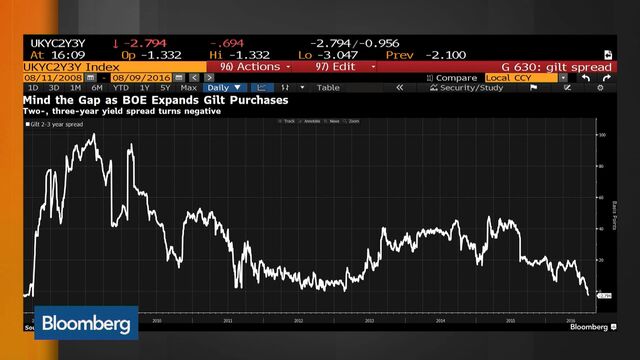 Analysts who spent the past year chasing the rally in Treasuries now risk getting caught flat-footed by a retreat.
For the first time in 2016, the yield on 10-year U.S. notes climbed above the weighted average of year-end estimates compiled by Bloomberg, after better-than-forecast labor data spurred traders to boost bets that the Federal Reserve will raise interest rates in 2016. The benchmark rate has jumped about 25 basis points since reaching a record-low 1.318 percent on July 6, while the Bloomberg weighted average forecast, which places a greater emphasis on most recent projections, has fallen 20 basis points over the same period to 1.57 percent.

The push and pull of global and domestic forces have caused both analysts and the Fed to recalibrate expectations in 2016. About $8.8 trillion of sovereign debt worldwide yields less than zero, which helps stem Treasuries selloffs by luring global investors. Yet within the U.S., a Bloomberg gauge of economic data surprises is at the highest level since December 2014, setting the stage for a possible Fed rate hike later this year.
"Nothing drops drastically and just keeps going down -- you're always going to get a correction and you're always going to get retracement," said Dimitrios Delis, senior econometric strategist in Chicago at Piper Jaffray & Co. His call for the 10-year yield at year-end is among the closest to the current level among 65 analysts surveyed by Bloomberg. "The Fed is vigilant out there -- they don't want things to spiral out of control."
Fed Projections
Benchmark 10-year note yields fell four basis points, or 0.04 percentage point, to 1.55 percent at 1:27 p.m. in New York, Bloomberg Bond Trader data show, after touching as high as 1.60 percent earlier. The price of the 1.625 percent security due in May 2026 was 100 21/32. The yield climbed nine basis points on Aug. 5, the most since March.
Treasuries extended gains after the U.S. auctioned $24 billion of three-year notes at a yield of 0.85 percent, less than the level indicated in pre-auction trading. The bid-to-cover ratio, a gauge of demand, was 2.98, the highest for a three-year debt sale since December. Primary dealers took 33.7 percent of the notes, the least since May.
Chicago Fed President Charles Evans said this month one rate increase could be appropriate this year, in line with the median projection of central bank officials. Futures signal about 49 percent odds of tighter monetary policy by year-end, up from 36 percent probability at the start of the month.
Still, it's a far cry from the start of the year, when policy makers were considering four rate increases in 2016.
Debt Demand
"There is so much demand for U.S. Treasuries that it is difficult for the Fed to raise longer-term rates substantially," said Philip Marey, a strategist at Rabobank International in Utrecht, Netherlands.
A JPMorgan Chase & Co. survey showed the highest level of neutral Treasuries positions since July 11 among all clients. That's likely in part because many analysts remain convinced the rise in U.S. yields will be short lived despite an improving economy and hawkish comments from some Fed policy makers. 
For interest-rate forecasters who chased the rally, all they can do is wait and see how the market reacts to the latest data, and what that might mean for the Fed's moves in 2016. The problem they've found is it's growing harder to find the link between the U.S. economy and the central bank's actions.
"There's no doubt: the Fed has been shifting the goalposts for at least two years, maybe more," said Harm Bandholz, chief U.S. economist in New York at UniCredit. "That's something that was not factored in for interest rates."
— With assistance by Marianna Duarte De Aragao, and Kevin Buckland
(
A previous version of this story corrected the characterization of forecast data in second paragraph.
)
Before it's here, it's on the Bloomberg Terminal.
LEARN MORE