U.K. Labour Picks Burnham For Manchester's First Mayoral Vote
By
Shadow Home Secretary comfortably wins party's nomination

Burnham pledges to break 'London-centric nature of politics'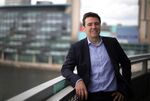 The U.K.'s opposition Labour Party picked Andy Burnham as its candidate to be the first mayor of Greater Manchester in northern England.
Burnham, the party's home affairs spokesman, won 3,792 votes from party members, beating interim mayor Tony Lloyd on 2,163 votes and Ivan Lewis, a lawmaker and former minister, on 1,472. He'll now compete in an election next May for one of the biggest popular mandates in the U.K. and oversight of billions of pounds of public spending.
Burnham pledged "to break the London-centric nature of politics" and "to close the north-south divide," in his victory speech on Tuesday. He added that the North often feels "drowned out by Scotland". Speaking to people in Greater Manchester who voted to leave the European Union, Burnham said: "I listened, and I understand why you did that, and I hear your call for change in the way that we do politics."
Victory in Manchester would provide Burnham with an escape from Labour's warring parliamentary party. Leader Jeremy Corbyn is seeking to win a new mandate from the membership after he lost a no-confidence vote among lawmakers in June and more than 60 members of his front-bench team quit. Burnham, defeated by Corbyn in last year's leadership contest, is one of the few members of the shadow cabinet to stand by him.
"Congratulations @andyburnhammp - the future Mayor of Greater Manchester, the strong Labour voice the region needs," Corbyn wrote on Twitter. He also congratulated Sion Simon, a member of the European Parliament, on becoming Labour candidate to be mayor of the West Midlands.
The new regional mayoralties were announced by former Chancellor George Osborne and local government leaders in a devolution deal in 2014. The regions are largely Labour-controlled, making the party's candidates favorites in the elections. All have larger personal mandates than the prime minister, who is elected to serve one of the country's 650 constituencies.
Burnham has served as Member of Parliament for Leigh, Greater Manchester, since 2001, but promised to "stand down at the first and earliest opportunity" if he wins the mayoralty. He told reporters he'll remain neutral in the Labour leadership election, refusing to say if he backs Corbyn or the party's former work and pensions spokesman, Owen Smith.