Photographer: Simon Dawson/Bloomberg
U.K. Industry Barely Grew in June as Trade Drags on Growth
by
Production gains 0.1% as manufacturing falls for second month

Trade deficit widens in second quarter as imports gain
U.K. industrial production barely grew in June as the economy lost momentum before the Brexit referendum.
Output rose 0.1 percent following a 0.6 percent drop in May, the Office for National Statistics said in London on Tuesday. Manufacturing declined for a second month. Separate figures suggested the trade deficit continued to weigh on economic growth in the second quarter.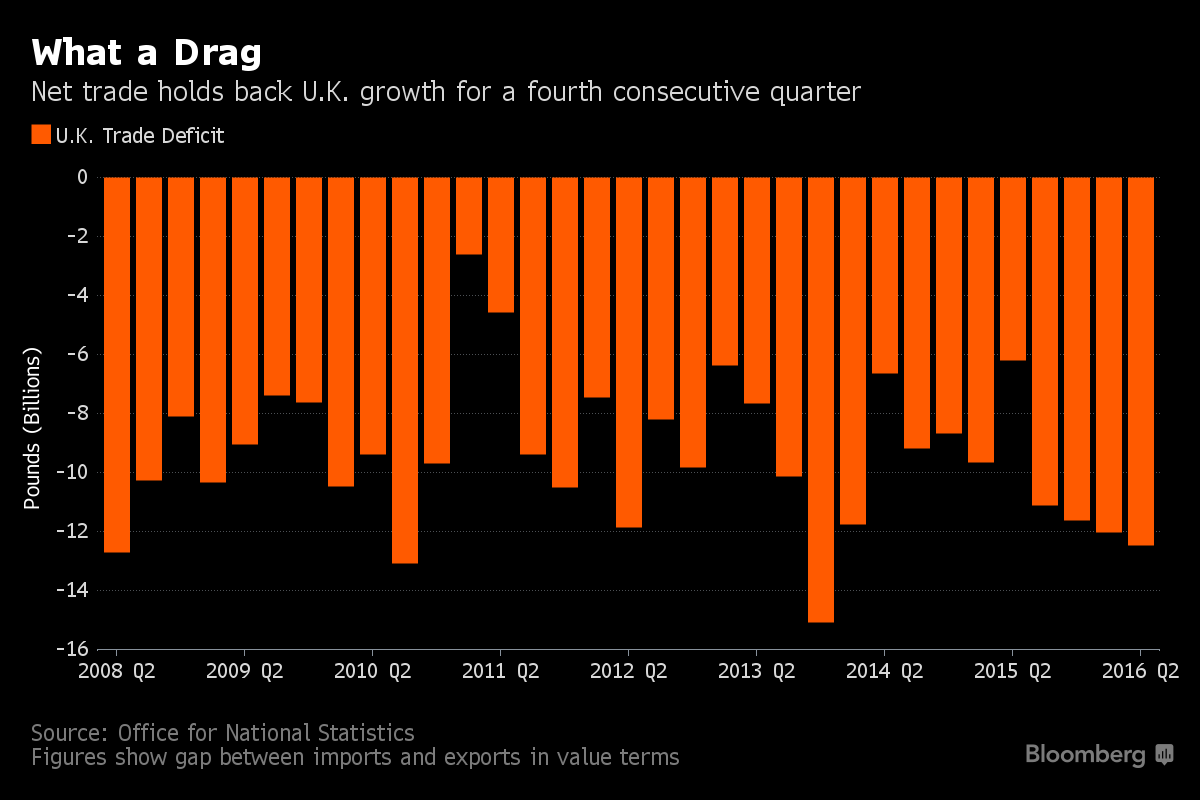 While growth accelerated to 0.6 percent, the improvement was heavily centered on April. Caution was taking hold in the run-up to the June 23 vote, and surveys show the surprise decision to leave the European Union has delivered a hefty blow to confidence and business activity.
The Bank of England responded by cutting interest rates last week for the first time since 2009 and pledging an additional 170 billion pounds ($221 billion) of stimulus as it announced a record downgrade to its economic growth forecasts.
In June, factory output fell 0.3 percent after declining 0.6 percent in May. Nine of 13 manufacturing sectors showed declines, with the biggest downward contribution coming from transport equipment, in particular motor vehicles. Utilities increased output by 0.9 percent and oil and gas extraction rose 1.5 percent.
The pound was at $1.2972 as of 12:33 p.m. London time, down 0.5 percent since Monday. The currency has lost almost 13 percent against the dollar since the Brexit referendum.
Trade Drag
A strong start to the quarter helped industrial production grow 2.1 percent in the second quarter, the fastest pace since 1999. That matched the estimate in preliminary GDP data published last month.
But the economy received no help from trade, with the gap between imports and exports widening to 12.5 billion pounds, the highest since the end of 2013. Policy makers are pinning their hopes on a sharply weaker pound giving a spur to exports as Brexit threatens to hit business investment and consumer spending.
Britain runs a growing surplus in services, helping to mask its decline as an exporter of manufactured products. In June alone, the deficit in goods widened by almost a billion pounds to 12.4 billion pounds as imports grew faster than exports. There was also an upward revision to the deficit in May due to imports being 1.6 billion pounds higher than first estimated.
Trade with other EU nations accounted for two thirds of the gap. Brexit supporters say the fact that the EU sells more to the U.K. than vice versa puts Britain in a strong position as it prepares to negotiate new trade terms with the 28-nation bloc.
Before it's here, it's on the Bloomberg Terminal.
LEARN MORE