Sydney's 'Most Boring' Man Leaves an Imperfect Legacy
By and
RBA Governor averaged mid-point of CPI target over his tenure

Stevens prepares to deliver final speech in Sydney Wednesday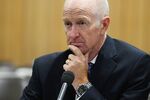 It's a "non-trivial" occasion, as Glenn Stevens might say.
Stevens's final speech Wednesday, his last stand as Reserve Bank of Australia governor, will allow him to bask in an inflation average his predecessors would envy, as well as reflect on the difficult legacy he leaves his deputy and successor.
The central bank chief, who retires next month, oversaw average inflation of 2.5 percent in his 10 years at the helm -- the mid-point of the Reserve Bank of Australia's 2 percent to 3 percent target. His successor, Philip Lowe, will be the first governor in 40 years to confront the challenge of low, rather than high, inflation. Lowe will also have the least policy ammunition on record to combat it.
The time in office of the self-proclaimed "most boring" man in Sydney has been anything but dull. Stevens negotiated a once-in-a-century mining boom without blowing up the economy. He also played a pivotal role in helping manage the fallout from the 2008 financial crisis and dodge the subsequent global recession. The soft spoken and deeply religious governor -- who plays guitar at his local church, likes jazz and pilots light airplanes to relax -- has cause for satisfaction with some of the economic numbers over his tenure.
Facing the Music
Whether he leaves the economy in better shape than he found it is another question. Part of that reflects politically timid governments forcing him to shoulder the load of keeping the economy going. The world is also undergoing profound structural change in response to aging populations in the West and the emergence of developing countries like China. That's resulted in massive excess capacity, with developed nations struggling to turn around depressed wage gains and fight off disinflation or even deflation.
At the same time, Stevens helped unleash an explosion in house prices in his final years that may come to haunt Australia; it's certainly already had serious social implications. The governor would argue the price gains prompted desperately needed construction. Critics would say he priced a generation out of the housing market while lining the pockets of Baby Boomer homeowners. For the record, Stevens described his own home in Sydney's Sutherland Shire as "a piece of spec rubbish built in the 1970s."
Then there's the currency. The Aussie took a long time to track commodity prices lower, and in the interim hampered a rebound in trade-exposed industries. In order to maintain its purity among international peers, the RBA opted against intervention to speed the local dollar's depreciation; indeed, even its jaw-boning was fairly tame.
The following are some of the major market markers of Stevens's time in office:
| | | | | | | |
| --- | --- | --- | --- | --- | --- | --- |
| Governor | Period | Aussie Dollar | S&P/ASX 200 | MSCI World | Aussie Bonds | Global Bonds |
| Stevens | 2006-2016 | -0.1% | +68% | +62% | +83% | +58% |
| Macfarlane | 1996-2006 | -3.3% | +243% | +116% | +51% | +69% |
The table shows that despite the currency's roller-coaster ride -- from 60 U.S. cents in October 2008 after the collapse of Lehman Brothers Inc. to $1.10 in 2011 as the terms of trade peaked and Australia ran the developed world's highest interest rates -- it ends Stevens's 10-year term around where it started.
The bond outperformance also reflects the world of unconventional monetary policy Stevens inhabited compared to his predecessor Ian Macfarlane. In contrast, Macfarlane's world was a heyday for stocks, which rose almost four-times as much as during Stevens's tenure.

The red line is a 2.5-year moving average of inflation that shows Stevens managed to keep consumer-price gains within the 2 percent to 3 percent target for most of his time in office. But as it shows, that's fallen away in recent quarters and will present Lowe with a massive challenge: how to rekindle domestic inflation in a world of disinflation or outright deflation? 
Phil Lowe, over to you!

While Australia's cash rate is at a record-low 1.5 percent and leaves Lowe with little conventional policy scope, he's got a lot more left than counterparts among other the Group of 10 currency nations. This is mainly a legacy of Australia's mining boom and avoidance of recession. The higher rate also has historical roots -- as an importer of capital, Australia has to be more attractive to investors.

This has been the era of quantitative easing, zero or even negative rates and other unconventional policy measures, and that's reflected in the pre-eminence of bonds over stocks in terms of financial returns. The Aussie dollar, as mentioned, has come full circle back almost to where it was when Stevens started on Sept. 18, 2006.
By Australian standards, Stevens has had a charmed run with unemployment that peaked at 6.3 percent in July last year and has since come down to 5.8 percent. It averaged 5.3 percent over his 10 years. By contrast, it stood at 8.7 percent in the first year of his predecessor Ian Macfarlane's time in office. Separately, as the chart shows, the terms of trade, or ratio of exports to imports, remains the best guide to the trajectory of the Australian dollar.
Stevens is scheduled to deliver his final address in Sydney at 1:05 p.m.