Sturgeon Lobbies Germany on Scots' Interests in Brexit Talks
By and
First minister meets German deputy foreign minister in Berlin

Announces extra post-Brexit spending to support Scots economy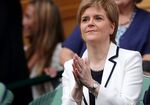 Scottish First Minister Nicola Sturgeon lobbied Germany to consider "unprecedented solutions" when deciding on Scotland's position within the European Union after the U.K. as a whole voted to quit the bloc.
Sturgeon said in an interview with Germany's ARD television that remaining in both the EU and the U.K. is an option for Scotland, alongside a possible second bid to seek full independence. After meeting with German Deputy Foreign Minister Michael Roth in Berlin, she said she had "constructive" talks on Scotland's role in upcoming EU negotiations with Britain.
"No country has ever tried to leave the European Union in this way," Sturgeon told the public broadcaster late Tuesday. "And therefore, because we're in unprecedented circumstances, we should be prepared to think about unprecedented solutions."
The first minister, who arrived in Berlin during the government's summer recess, didn't meet with Chancellor Angela Merkel or any cabinet members. Still, her presence in Germany underscores her semi-autonomous administration's bid to carve out a position that allows Scotland to stay in the EU regardless of the decisions made by Prime Minister Theresa May's U.K. government. May visited Merkel in July on her first foreign trip as British premier and reiterated that "Brexit means Brexit."
Stimulus Spending
Sign up to receive the Brexit Bulletin, a daily briefing on the biggest news related to Britain's departure from the EU.
On Wednesday, Sturgeon announced steps to stimulate the Scottish economy in the wake of the vote, starting with an extra 100 million pounds ($130 million) of spending on health-care and infrastructure projects in the financial year that ends next March.
"The U.K. government has not yet taken any meaningful action to alleviate uncertainty or to boost confidence," Sturgeon said in a statement on the Scottish government website. "There is no doubt that the referendum outcome has created deep and widespread uncertainty, with the impact on jobs and investment already being felt."
Two years after Scottish voters decided to stay within the U.K., Sturgeon said Tuesday that holding a second independence referendum was "one of the options" open to the country. In the June 23 Brexit referendum, a majority of Scots opted to remain in the EU.
"Let me stress that's only one option and that is not my starting point in the various discussions that I'm having," Sturgeon told ARD.
Sturgeon said in a statement after the meeting in Berlin that talks had been an opportunity to "strengthen our relations" to ensure that "all voices can be heard in that process."