business
Rajan Hands Over India Inflation Battle With Legacy in Balance
By and
Hopes monetary policy committee will be in place by October

'What matters is how this plays out in the longer run': Rajan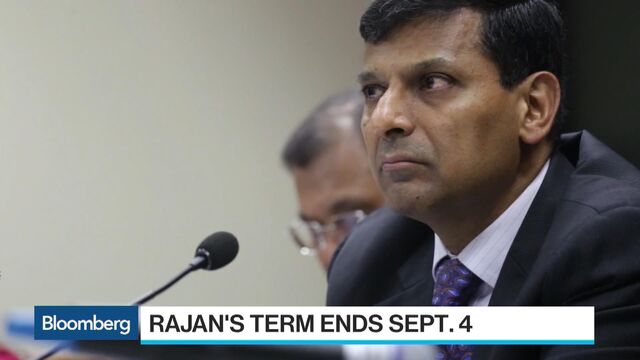 Central bank Governor Raghuram Rajan's ultimate legacy for India's economy will be decided years after he leaves office.
As he prepares to exit on Sept. 4, he'll turn over control of monetary policy to his successor and a new rate-setting panel. That six-member committee is one of the most significant steps remaining in the biggest overhaul of India's central bank in its eight-decade history, a process initiated by Rajan when he took charge three years ago.
His lasting impact now hinges in part on whether the body will establish its independence and keep India's inflation rate between 2 percent and 6 percent over the long haul. While Rajan managed to cement his inflation targeting framework into law, Prime Minister Narendra Modi faces calls from within his own party to stimulate growth ahead of key state elections leading up to the next national vote in 2019.
"The monetary policy committee needs to be perceived as neutral," said Shubhada Rao, an economist with Yes Bank Ltd. in Mumbai. "My sense is the chosen path will be one of credibility and continuity."
In Rajan's final review on Tuesday, he held interest rates at a five-year low as consumer price inflation crept close to the upper band of his target. He also announced the central bank's three members of a proposed rate-setting panel, and said it won't be long before the government selects the rest.
"We should expect them to take an independent decision, and I'm sure they will," Rajan told reporters in Mumbai.
Progress Evident
When Rajan took office in September 2013, he moved quickly to bolster the rupee as the U.S. Federal Reserve's move to end its stimulus roiled global financial markets. Later he set out to accomplish three main goals: keep inflation low and stable, spur competition at state-run banks and deepen India's financial markets.
With a month to go, progress is evident on all fronts. India has an inflation target and monetary policy committee set in law; new payment banks and a push to clean up bad debts at state-run lenders; and a framework to spur more corporate bond sales.
Yet while investors cheered those moves, Rajan's outspokenness on social issues -- particularly a call for tolerance amid heightened religious tensions last year -- angered Modi's allies. Eventually Rajan chose to exit the central bank after a ruling-party lawmaker said he was "mentally not fully Indian" and kept interest rates unnecessarily high.
Betting on a Dove
Modi's administration has less than a month to name Rajan's successor. While more than a dozen names have been tossed around, bond investors are betting on a more dovish governor: One-year interest-rate swaps have declined 18 basis points to 6.51 percent since Rajan said mid-June he will leave the central bank at the end of his term.
Although the monetary policy committee will be split 50-50 between representatives appointed by the central bank and the government, the governor holds a tie-breaking vote.
"I doubt the next governor will be as much of an inflation hawk as Rajan," said Kunal Kundu, a Bengaluru-based economist at Societe Generale SA. "I don't think it will mean that the spigot will be open and suddenly we will see a huge amount of rate cuts, but the possibility of cuts cannot be ruled out."
On Tuesday, Rajan said the central bank remains "accommodative" and is seeking "space for policy action." At the same time, risks to the inflation target of 5 percent for March 2017 "continue to be on the upside."
Uncertainties Loom
Consumer-price inflation touched a 22-month high of 5.77 percent in June, near the top end of the official target of 4 percent, plus or minus 2 percentage points. Above-average rains in the annual June-September monsoon may provide some relief from surging food costs.
Yet a host of other price pressures are looming. The central bank has yet to take into account a planned pay rise for government employees, and Rajan said on Tuesday that it would be premature to talk about the impact of a goods-and-services tax set to be implemented next April -- a move that has spurred inflation in countries around the globe that have made similar moves.
The political calendar also poses a risk. Modi faces key state elections that will test his resolve to narrow the fiscal deficit to an nine-year low in the 12 months through March. Those will set the stage for a national vote in 2019.
And then there's always oil prices. Crude has averaged about $73 per barrel during Rajan's tenure, compared with more than $100 in the preceding three years -- helping to damp prices in a nation that relies on imports for about 80 percent of its oil.
'Difficult Shoes to Fill'
Asked about his legacy on Tuesday, Rajan said that it would take another five or six years to properly assess his performance.
"Snap judgments, either by critics or supporters, aren't really what matters," he said. "What matters is how this plays out in the longer run for stronger and sustainable growth for the country, for job creation."
Still, compared with three years ago, India is in a much better spot. Rajan has boosted foreign-exchange reserves to a record, stabilized the currency and pressured banks to begin cleaning up $120 billion of souring loans.
"In the conduct of monetary policy, credibility is crucial -- and India's credibility has been properly restored," said Tirthankar Patnaik, India strategist with Mizuho Bank Ltd. "These will be very difficult shoes to fill after his departure. That's where his legacy will be most visible."
— With assistance by Iain Marlow
Before it's here, it's on the Bloomberg Terminal.
LEARN MORE