markets
Morgan Stanley: Stop Playing Defense and Look at Emerging Markets
Emerging markets are back in style.
By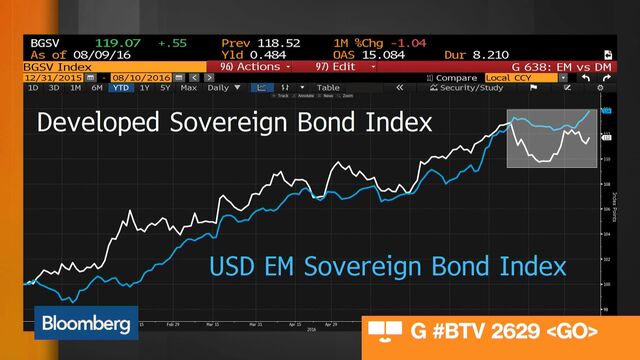 As playing it safe gets too expensive, now is a good time for investors to take a few calculated risks.
That's the verdict of Morgan Stanley analysts led by Andrew Sheets, who said the best options for investors are emerging-market debt, including asset-backed bonds. Those securities offer "quality carry," meaning they boast positive real yields and benefit from "a fundamental cushion" against inflation and low growth, according to the analysts.
Such securities should fare well if Morgan Stanley's forecasts for disappointing growth in development markets, a weaker U.S. dollar, and further delay — through 2017  — by the Federal Reserve in raising interest rates hold true, the analysts said.
It's more a pragmatic approach than glass-half-full thinking. And with the influx of money into developed-market assets only serving to pull bond yields ever lower, it's already having an appeal.

The analysts said:
"'Value' assets are challenged by our forecasts for growth, oil, rates and currencies. 'Defensive' assets are already rich. We think this backdrop favors 'quality carry' – assets that can beat inflation, with some protection against weaker growth. Securitized products and emerging market local rates fit this bill."

Securitized debt, which includes bonds backed by junk-rated business loans and commercial real estate mortgages, has lagged a rally in U.S. and European credit. However, weaker growth will help structured assets further afield outperform, the analysts said.  

Emerging-market bonds, which are already drawing greater attention from investors, are also set to perform well:

Before it's here, it's on the Bloomberg Terminal.
LEARN MORE