Mining Expert's Expulsion Raises Questions About Hong Kong Firms
by and
Queries over valuations of mines spark lawsuits in Hong Kong

Siberian coal mine deposit report leads to court case
Mining evaluator Herman Tso Chi-ming has a degree in civil engineering, an MBA, a Ph.D. in applied geology, another in civil engineering and a third on the way.
It's a resume that helped him win contracts to appraise mines for at least 15 public Hong Kong companies, according to a Bloomberg News analysis of his company's website and exchange filings. It has also put him at the center of a contentious dispute over the veracity of mining reports he wrote from 2010, a period when Hong Kong's stock exchange was trying to establish a reputation for miner listings.
Tso was expelled from the Australasian Institute of Mining and Metallurgy on June 6 after an investigation by the industry body questioned his academic qualifications. To meet the stock exchange's guidelines as a "competent person" to assess mineral reserves, you have to be a member in good standing of such an association.
His expulsion potentially turns the spotlight on companies that sent Tso to assess the deposits of mines from Russia to Indonesia. Amid ongoing lawsuits, in June a Hong Kong High Court judge said companies that hired Tso were "negligent" if they now ignored his expulsion.
Siberian Mining
At the heart of the growing tempest is a former garment maker listed in Hong Kong that was bought by a group of Korean investors in 2008 and renamed Siberian Mining Group. After reorganizing the company, its main asset was the Lapichevskaya coal deposit in Russia's remote Kemerovo region.
Tso wrote a report in 2013 for SMG, which concluded that the mine had 14.9 million tons in "proved and probable" coal reserves. Soon after the report's findings were published, the board gave the green light to a $443 million convertible bond.
But not all investors were happy. Complaints had already reached the Hong Kong stock exchange, including accusations that the findings of Tso's report were "false," according to a fax from the exchange to SMG seen by Bloomberg News.
"The resource report is absolutely critical," said Neil Beveridge, senior oil and gas analyst at Sanford C. Bernstein & Co., speaking generally. "It really is the basis upon which the companies are valued because often they don't have any production or cash-flow generation."
Soon after SMG issued the convertible bond, its auditor resigned and the board suspended trading in the shares, later linking the suspension to an internal review into shareholder complaints regarding the company's financial accounts and the quality of various mining reports, including Tso's. The stock didn't trade for two years.

SMG did not respond to calls and e-mails requesting comment about the report and mine and declined a request to interview Chairman Hong Sang Joon.
Problems had begun to surface at SMG over the involvement of Korean businessman Kim Young Jun, who more than a decade earlier had been convicted in Korea for his role in a scam to manipulate stocks related to a sunken treasure ship.
In a separate trial in Seoul, Kim is accused of taking money from firms he controlled and routing the funds to SMG, where he built a 33 percent stake through his son and a female friend, South Korean prosecutors say. An investment vehicle named Master Impact registered in the name of Kim's female friend has since 2013 sold down its SMG shareholding to below the 5 percent disclosure threshold, exchange filings show. The stock has fallen more than 99 percent since May 2009. 
The son and female friend have not been accused of wrongdoing.
Prosecutors accuse Kim of wanting to gain control of SMG in order to issue the convertible bonds, according to an official familiar with the case. Kim's lawyer referred questions to his client. Calls to Kim's phone were unanswered.
After shareholders questioned the accuracy of Tso's report, in May 2014 SMG's auditor commissioned another mining assessor, Hong Kong-listed Roma Group, to provide an expert opinion on Tso's evaluation. Roma's conclusion was that Tso's report was "well written" and allegations against it were "unsubstantiated," according to an April 2015 exchange filing by SMG.
The Roma report was key to getting the company's share suspension lifted, according to the same filing. It was also a big surprise for Terence Tam, a Shanghai-based investor who has since filed writs against SMG.
First Report
In late 2013, Tam had advised Chinese firm Best State Investments on a failed bid to buy SMG, he said in an interview. As part of his due diligence, Tam flew by helicopter with a surveyor from Roma to the mine in Siberia, which he said showed few signs of life apart from some discarded drill cores.
In this first report by Roma, issued in January 2014, the surveyor hired by Tam wrote that Tso's work was "misleading," and "material information is missing," according to a copy of the document seen by Bloomberg News. The report said that drilling data was too old to give a proper assessment of the mine's resources.
Over drinks last summer at N1, a private bar in Hong Kong's Wan Chai District, Roma's founder and chief executive officer Kelvin Luk Kee-yan met with two SMG shareholders about the conflicting Roma reports. Luk said that Roma's second report, the one issued in May 2014, was misrepresented by SMG in its exchange filing, and that the filing was inaccurate, according to Charles Zhi, one of the shareholders present.
In March, Luk wrote to the SMG board accusing the mining firm of using the May 2014 report Roma did for SMG "without our prior knowledge" and with contents that "had not been agreed," according to a copy of the letter seen by Bloomberg News. "The Announcement may not fully reflect the contents of the Roma Review Report," the letter said.
Luk said in an interview that Roma's two reports were different because he "got more information" from SMG for the second report published in May 2014. He declined to comment on the Wan Chai bar meeting or on his letter in March to SMG. In his letter to SMG, Luk wrote that he held SMG liable for "loss and damage," a reference to a now discontinued court action brought against him and Roma by SMG shareholders.
Report Withdrawal
Meanwhile, Tso's report was also becoming the subject of an increasingly acrimonious series of court cases. On Feb. 1, SMG shareholder Kim Sung Ho filed a writ against Tso seeking damages and declaring his report to be invalid, according to court documents.
Soon after, Tso wrote a letter to SMG saying he was withdrawing his report, and then filed a writ in the High Court applying to restrain SMG from "using any reports or opinions" by him or his company.
SMG countersued, seeking $443 million in damages from Tso, claiming "injurious falsehood" and libel. In an April 18 stock exchange filing SMG argued that the filing detailing Tso's report "remains true, accurate and not misleading," and the company would not withdraw it. Tso discontinued his action against SMG on May 20.
Then came the Australasian Institute of Mining and Metallurgy's bombshell, calling into question whether Tso was even qualified to assess mineral deposits for a listed company.
The Australian mining institute said it expelled Tso and invalidated his membership after "an exhaustive investigation" because he was "unable or unwilling" to provide proof of his bachelor's degree in civil engineering, according to a press release from the institute and correspondence with Tso seen by Bloomberg News.
Tso said he has not decided whether he will appeal.
"The expulsion of an individual from a recognized professional organization may mean that that person may no longer meet the listing rule requirements to be a Competent Person," a Hong Kong exchange spokesman said in an e-mail. The exchange said it does not comment on individual cases.
Philip Hellman, a former committee member of Australia's Joint Ore Reserves Committee, a standard-setting body for the mining industry, said that if someone's membership of AusIMM was invalidated, "it would call into question the validity of his or her work."
Companies that had relied on that person's statements would need to redo the reports, said Hellman, speaking generally.
"It would not be sufficient to review it," he said. "It would have to redone and to be re-reported with someone taking responsibility as a Competent Person."
Online Education
Tso's qualifications include a 2010 doctorate in applied geology from online college Universidad Empresarial de Costa Rica. E-mails to the school were not returned and there is no phone number on its website.
Several people associated with UECR are known to work with schools that sell degrees for little if any study time, George Gollin, professor of physics at University of Illinois and a researcher on such schools, said in an e-mail. Such schools "are just taking money in exchange for academically meaningless credentials," he said.
Tso said he got an online PhD in civil engineering in 2002 from Stamford Hill University in the U.S. The college "ceased operation in 2004 due to lack of financial support," Tso stated in exchange filings. A Stamford Hill website says the school is still operating an online service based in Saint Petersburg, Florida. A spokesman for the school did not reply to e-mailed questions about Tso.
Tso is also a visiting professor from Bulacan State University in the Philippines, according to his online profile. A university representative said Tso was involved with their Hong Kong-based operation, Lifelong College. 
The college's distance-learning master's and doctoral degree courses were suspended in November after allegations it handed out diplomas regardless of whether students sat the required hours of study. The Hong Kong Education Bureau is investigating whether the school "assisted students to obtain non-local higher academic qualifications under a fast-track mode," and has forwarded documents collected from Lifelong to the police, bureau spokeswoman Sally Kong said.
A case file was opened in December and is still under investigation, according to a police spokesman.
Work Done
Tso, the sole director at HASS Natural Resources, disputed the suggestion that he had not done a proper course of study, saying it had taken three years of online coursework to get his Costa Rican PhD. "I need just the knowledge, I really don't worry about how they rank," he told Bloomberg News.
In a High Court action brought by SMG shareholder Charles Zhi against eight listed companies, including SMG and other firms Tso had done reports for, Deputy High Court Judge Conrad Seagroatt said on June 28 that any business that had used Tso's appraisal "would be negligent" if it ignored the evidence that Tso had been "discredited." 
In his decision, Seagroatt referred the case to another judge. It was not clear from the court decision if Zhi held shares in all eight companies, and his standing to file suit against all the firms was questioned by Seagroatt.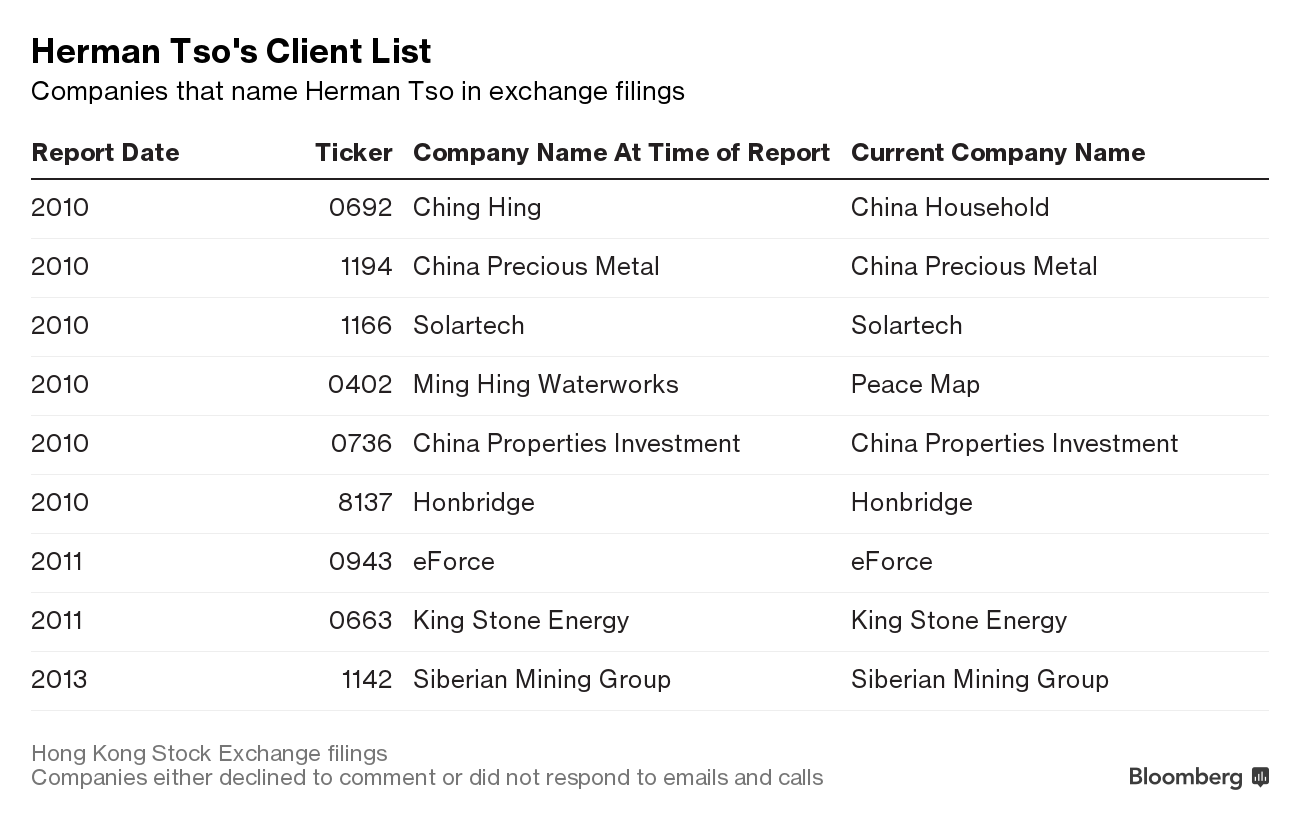 Mining firm Honbridge employed Tso in 2010 to write a valuation report on a South American mine and was named as a defendant in Zhi's claim. Following Seagroatt's decision the company said in a filing it will seek legal advice over whether to establish an independent committee to review Tso's valuation report and impact on financial statements. The company's senior directors told Bloomberg News they would not comment while the case was in progress. The other listed firms named as defendants did not mention the case or the judge's decision in their exchange filings.
Hellman, the former member of Australia's Joint Ore Reserves Committee who's now at H&S Consultants, said regulators needed to be "extremely proactive" to protect investors.
"Otherwise you have a whole important section of the market that is going to get a bad name by operators that don't necessarily have the credentials or experience in statements that have huge financial ramifications," he said.
A day after Seagroatt's decision, SMG told the stock exchange it was delaying its 2016 annual report because the auditors need more time to assess the mine's valuation and the firm's loan commitments.
Before it's here, it's on the Bloomberg Terminal.
LEARN MORE