markets
Merkel Critic Says Chancellor's Refugee Policy Is a 'Time Bomb'
By and
AfD official says must pull 'heads out of clouds' on migration

Germany must close its borders to stop 'import of terrorism'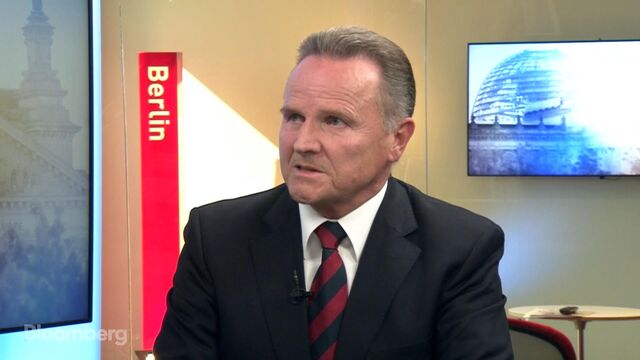 Chancellor Angela Merkel's decision to admit huge numbers of refugees without knowing their identities has created a "time bomb" for the country, said a regional leader from the anti-immigration Alternative for Germany party.
The country is trying largely on its own to accommodate migrants fleeing war and poverty, with most other European Union members refusing to contribute, Georg Pazderski -- co-leader of the AfD in Berlin -- said in an interview with Bloomberg Television broadcast on Tuesday.
"We have to put our heads out of the clouds and put our feet down to earth just to find solutions to this problem," said Pazderski, a retired German army officer who worked for several years with General David Petraeus at U.S. Central Command in Tampa, Florida. "Even the British went out of the EU because of this refugee crisis, which means we have to make realistic policy, we have to look to Realpolitik to what we can do."
Backing for the AfD, founded three years ago in opposition to Merkel's move to expose German taxpayers to sovereign defaults in the euro region, has rebounded in the wake of the refugee crisis after a leadership struggle all but eroded support a year ago. That's disrupting German politics and limiting coalition options for Merkel's party in regional and national parliaments.
Two-thirds of Germans oppose the chancellor's handling of the refugee crisis, according to an Infratest dimap poll for ARD public television published last week. Voter support for Merkel slumped 12 percentage points to 47 percent in July, the second-lowest of her third term that started in 2013, after attacks committed by refugees unsettled the public and sparked political opposition.
For a QuickTake explainer on Europe's refugee crisis, click here
"We don't know who's here, we don't know which intent some people have and we're also importing terrorism," said Pazderski, who will lead the AfD in the Berlin state elections on Sept. 18. "If I was commander of the Islamic State, I would bring terrorists to Germany. It's very easy with all these immigrants and refugees."
Germany was put on edge after a series of four attacks in July left 13 dead. Three of them were carried out by asylum seekers. In the Bavarian town of Ansbach, near Nuremberg, a 27-year-old Syrian refugee blew him himself up near the entrance to a music festival; an ax assault by an Afghan refugee wounded two train passengers near Wuerzburg, also in Bavaria.

Support for the AfD nationally held at 13 percent in an INSA poll for Bild newspaper published Tuesday. Merkel's Christian Democratic Union-led bloc was unchanged at 31.5 percent while backing for her Social Democratic Party coalition partner was steady at 21 percent. With support at 11.5 percent each for the Greens and the Left Party, and at 6.5 percent for the Free Democrats, the only two-party option following the 2017 federal election would be a repeat of the coalition between the CDU and SPD. INSA polled 2,056 voting-age individuals on Aug. 5-8. The margin of error was 2.5 percentage points.
"I think we will not have the chance to participate in the government, certainly not," said Pazderski, who's also a member of the party's national board. Even so, "we already see that a lot of topics the AfD has mentioned are now topics in Germany: the refugee crisis, the euro crisis, security in Germany. That's because the AfD is here and now all those parties have to deal with it, they have to discuss it."
Before it's here, it's on the Bloomberg Terminal.
LEARN MORE