McDonald's Japan Profit Ends Seven-Quarter Streak of Losses
By
Quarterly sales surge to highest since 2014 on new menu items

Pokemon Go collaboration driving surge in summer sales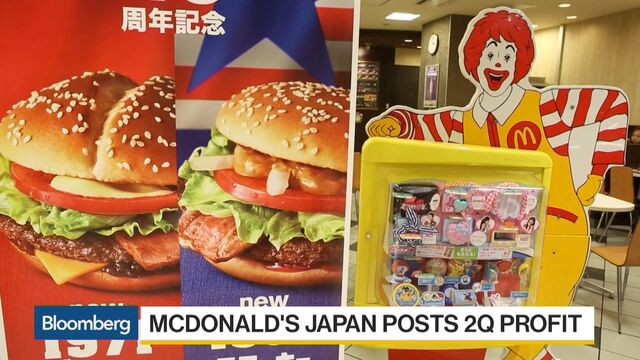 McDonald's Holdings Co. Japan posted a profit in the second quarter, ending a streak of seven consecutive losses by attracting more customers with promotional menus as it sought to rebuild its image after a series of food scandals.
Net income was 300 million yen ($2.9 million) in the three months ended June, based on first-half results the company reported Tuesday. Sales jumped 19 percent to 52.7 billion yen in the quarter, the highest in about two years.
The Japanese unit of McDonald's Corp. is moving on after food scandals in 2014 and 2015 contributed to the closing of more than 100 stores. The stock has since drawn investor attention after a collaboration with Pokemon Go last month, turning the chain's outlets into "PokeStops" and "PokeGyms" to lure players of the mobile game. Sales jumped 27 percent in July, with demand by families for children's meals that include Pokemon toys and the Pokemon Go collaboration driving traffic, it said.
"Our business is in a vastly different condition than it was a year ago," said Chief Executive Officer Sarah Casanova at a Tokyo briefing after earnings were announced. "We are on the right path and we will stay the course, executing our revitalization plan to continue our business turnaround."
Casanova said it's too early to estimate the impact of Pokemon Go on the company's earnings, adding the company is seeing more customers because of the collaboration. There will be no further strategic store closures in Japan, she said.

The stock touched a 15-year high of 3,875 yen intraday on July 21, a day before Pokemon Go was released in Japan. Gains from the Pokemon tie-up have since been wiped out. The company's shares rose 4.1 percent to 3,075 yen as of the close in Tokyo trading Tuesday.
The company left its forecast for annual net income of 1 billion yen unchanged.
Same-store sales at McDonald's Japan grew 20 percent in the April to June period, as the fast-food chain offered promotional menu items such as the Hawaiian-inspired Loco Moco burger and American barbecued chicken. Its tie-up with Pokemon Go will further drive a recovery, according to Ichiyoshi Research Institute Inc.
McDonald's shares rose 0.2 percent to $118.48 at 1:35 p.m. in New York. Through Monday, the stock had gained 0.1 percent this year, trailing the 6.7 percent advance of the Standard & Poor's 500 Index.
Stake Sale
"The worst is over," said Mitsushige Akino, a Tokyo-based executive officer at Ichiyoshi Asset Management Co. "The key is if the recovery that we're seeing now will last in the long run."
In January, the Japanese chain's Oak Brook, Illinois-based parent said it was studying the prospects of selling a stake in the unit. Casanova on Tuesday said the Japanese unit didn't have an update to provide on the sale prospects.
"We have been reviewing our ownership levels in all markets," said Becca Hary, a McDonald's spokeswoman. "We're taking a thoughtful approach and remain confident in the McDonald's Japan business for the long-term and their commitment to revitalizing the brand in Japan."
While the division is performing better, the boost from Pokemon Go is unlikely to change McDonald's prospects for selling a stake in the unit, said Peter Saleh, an analyst at BTIG LLC in New York.
"They have a promotion with this Pokemon Go thing, and it's helping to drive some business," he said. "That's good, but did this fundamentally improve the business? I don't think so."