Land Prices Double in Karachi 'Exciting' Financier Habib
by
Shortage of homes, rising income boosts new house construction

Habib's Power Cement and Aisha Steel Mills set for expansion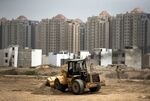 Pakistani financier Arif Habib's bet on Karachi's real estate is paying off as land prices in the nation's financial capital surge amid rising demand and an improving security situation.
Prices for Habib's development in a 1,300-acre property at the northern tip of the city have more than doubled since 2012. Habib's Javedan Corp.'s project called Naya Nazimabad offered plots for 6,800 rupees ($65) an acre four years ago, at a time when regular bomb blasts killed and maimed city residents. The plots are now selling for 20,000 rupees, Habib said. In Mumbai, India's financial capital, property prices rose just 19 percent in the period.
"The most exciting is real estate" of the 13 companies the group manages, Habib, the 63-year-old chief executive officer of Arif Habib Corp., said in an interview in his office in Karachi. "Real estate development margins are good and you feel good in contributing" to the needs to the people, he said. 
The coastal city is recovering from decades of sectarian violence, bombings and kidnappings and that's luring Habib and his rivals including tycoon Malik Riaz and the military-owned Defence Officers Housing Authority to tap the housing boom in the city. Property prices in the nation of about 200 million people will continue to rise as Pakistan has a shortfall of 500,000 homes annually, according to Habib.
Growth in housing loans accelerated 20 percent in the year that ended on June 30, that's the fastest pace since 2008, according to Pakistan's central bank. The International Monetary Fund forecasts the $270 billion economy will expand 5 percent in the year that began on July 1. The nation is in the process of completing a $6.6 billion IMF loan program that will end next month.

"Nobody wants to miss the demand that will come" for construction materials, said Bilal Khan, analyst at Global Securities Pakistan Ltd. "There is local demand with people spending more on houses with low interest rates and rising incomes."
Three years ago, 97 bomb blasts in Karachi killed 179 people, according to the South Asia Terrorism Portal. The army following the massacre of more than a hundred students by Taliban insurgents at a military school in 2014 in the northern city of Peshawar, along with clamping down on militants near the Afghan border, went after criminal gangs and political parties in Karachi in a bid to stop long-running turf wars.
That bought down the number of bombings to 19 incidents in 2015 and has garnered widespread praise from residents and businesses. The drop in attacks has also added to demand for homes in the city.

Pakistan's Prime Minister Nawaz Sharif is also betting on China's plan to invest a proposed $46 billion in the country to boost growth. That in turn may spur demand for homes, cars and other consumer goods in the nation.
Habib, who started as a stockbroker more than four decades ago, plans to spend as much as $450 million on the next phase of the Naya Nazimabad project, which includes building houses and flats. His group plans to raise about $60 million through a real estate investment trust that would own the commercial and apartment portion of the housing project.
However, Finance Minister Ishaq Dar's proposal to toughen tax rules may hit prices. Property held for less than three years will be taxed between 5 percent to 10 percent, according to the plan set out last month.
'Tough Time'
"Prices will not rise like yesteryear after the government's new tax," said Zubair Ghulam Hussain, chief executive officer at Insight Securities Pvt. "The positive side is the property market will become more regulated and increase mortgages in Pakistan where houses are mostly bought on cash."
Habib is also expanding his other businesses. Fatima Fertilizer Co.'s plant in Indiana plans to sell a $350 million stake in two to three months. Power Cement Ltd. plans $220 million investment to triple production to 3.1 million tons from 900,000 tons in 2 years, while Aisha Steel Mills Ltd. will boost output to 350,000 tons from 200,000 tons with a galvanizing plant for current capacity.
Arif Habib Corp.'s shares rose 1.3 percent to about 42 rupees at the market close in Karachi, the highest in three months, while Aisha Steel advanced 6.4 percent, most in about two months. Arif Habib's shares have dropped 18 percent this year, dragged down by Habib's fertilizer unit, which has fallen 22 percent in the same period and is lagging the 21 percent rise of Pakistan's benchmark index.
The group's net income more than doubled to 5.01 billion rupees in nine months ended March compared with 2.01 billion rupees in the same period a year earlier.
A few years ago "there was a time we had to takeover some companies that were not performing and at that time we had a very tough time," Habib said. "Now, thank god, all these companies are doing well."
Before it's here, it's on the Bloomberg Terminal.
LEARN MORE