Italian Banks Reel But Monti Has No Regrets for Avoiding Bailout
by
Then-premier says bailout would have worsened debt crunch

Contrast with Spain, which rebounded following bank aid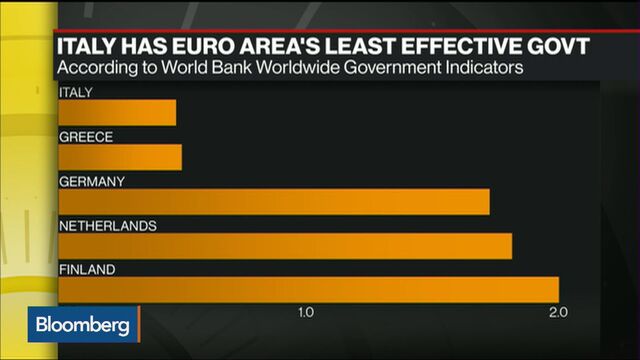 The future of the euro zone was hanging in the balance but there was still time for a soccer game.
On a June evening in 2012, German Chancellor Angela Merkel, European Central Bank President Mario Draghi, and then-Italian Premier Mario Monti used a break from their all-night talks to watch Italy take on Germany. Monti's Azzurri won that encounter but lost the tournament championship three days later -- to Spain.
The result of the Brussels crisis summit was much the same: Monti won a round from Merkel and avoided the bank bailout to which Spain had just succumbed. But today with the financial crisis in the rear-view mirror for most -- and with Spain growing at twice the pace of the euro area -- Monti's successors are still struggling. Four years of economic stagnation later, Italy's financial system remains too big to fail and too big to save.
Yet Monti, 73, has no regrets. Currently the president of Bocconi University in Milan, Monti says the rescue, and its draconian conditions, wouldn't have worked in Italy. So he focused at home on shoring up the nation's own finances and in Brussels on getting a rescue fund that could aid troubled banks directly instead of funneling more loans through debt-burdened governments.
"We were reasonably content," Monti said in an interview this month. "I decided to spend the new credibility of Italy in an effort to persuade the EU and Germany not to grant financial help to Italy, something that would have put us in a position of inferiority for years to come. Instead we changed some key aspects of the governance of the euro zone."

The immediate problem is 360 billion euros ($398 billion) of bad debt on Italian banks' books. European regulators' stress tests last month showed Banca Monte dei Paschi di Siena SpA would be the only major European bank to fail in a severe economic crisis. Healthier rivals have also been hemorrhaging value; shares in Milan-based UniCredit SpA, Italy's No. 1 bank with about 892 billion euros in assets, have plunged 60 percent this year.
In contrast, Spain has rebounded since receiving its 100 billion-euro package in 2012. Spain has emerged as the best performing major economy in the euro zone in the past 10 quarters even as it enters its eighth month without a government after two inconclusive general elections. Growth was 0.7 percent in the second quarter -- more than double the euro-area rate.
'Slow Deterioration'
"We just managed to escape a mega-crisis and that's put the fear of God into Spanish fiscal authorities," said Javier Diaz Gimenez, an economics professor at IESE business school in Madrid. "In Italy it looks like there's going to be a slow deterioration unless there is some explosive event like there was in Spain, which forces immediate, radical action."
To understand why Italy chose a different path, you have to go back to November 2011. As Monti saw it, the predicament was posed by a debt burden exceeded only by bailed-out Greece and not a mass of worthless real-estate assets. In August 2011, ECB President Jean-Claude Trichet didn't highlight any bank weaknesses in a letter he wrote to Draghi, then the head of the Bank of Italy. Nor did the European Commission's review of Italy's reform program released in July 2012.
"The banking system didn't have toxic assets, and in a post-Lehman world that was a virtue," said Alessio Terzi, an affiliate fellow at Bruegel, a think tank in Brussels.
But with yields on Italian 10-year bonds breaching 7 percent that month, the market signal that a bailout might be needed, Rome was confronting the prospect that it would no longer be able to borrow. "It was clear that the problem was a risk of default," said Monti, who was sworn in as caretaker prime minister on Nov. 16, 2011, after Silvio Berlusconi resigned.

So he spent what little political capital he had on a package of tax increases, pension reforms and other measures to garner credibility in Brussels and the markets.
"If we had used state money to help the banks we would have worsened the public-finance crisis," he said. "Given that all the banks were holding a high proportion of their assets in government bonds, their position would have been seriously damaged. Rather than extinguishing the fire threatening the Italian state, we would have propagated it into the banking system."
Yet the health of Italy's commercial banks was -- and still is -- inextricably linked to Rome's balance sheet. They held 244.5 billion euros in government bonds in 2011, according to data from Bloomberg Intelligence. What's more, Italy's shrinking economy has put pressure on their loan books as borrowers started defaulting. Monti concluded that even if Europe could muster the capital for a bailout, it would backfire.
For a primer on what ails Italy's banks, click here
Now, muddling through remains the strategy of 41-year-old Prime Minister Matteo Renzi and his finance minister, Pier Carlo Padoan.
They're scrambling to shore up the capital of Italian lenders but they no longer have the option of using state cash to stabilize Monte Paschi or the nation's constellation of regional lenders, many of which need help too. EU rules adopted in the wake of the crisis bar governments from channeling public money to troubled institutions in most circumstances. Instead bondholders and equity investors must first absorb the losses in a process known as a "bail-in."
Imposing losses on the many households who own banks' bonds risks undermining support for Renzi and his plans to streamline the government -- a referendum in October or November on which the premier has staked his political future.
Which brings us back to that June 2012 summit.
Breaking 'Doom Loop'
Merkel and Monti, along with Spanish Prime Minister Mariano Rajoy and French President Francois Hollande, capped their 12 hours of talks with a plan to break the so-called "doom loop" between governments and banks. The banking union they unveiled would make the ECB the head of bank supervision, create a common system of deposit insurance, and set up a body to manage failing lenders.
In Monti's view, this breakthrough enabled Draghi to vow in July 2012 to do "whatever it takes" to defend the currency, which finally broke the market fever. In the current world of negative interest rates, the yield on Italy's 10-year bonds has plunged to about 1 percent. But protecting states from the risks of future bank bailouts seems as elusive as ever.
"In theory, this should prevent creating moral hazard on the part of the banks and make investors more discerning when buying bank equity and debt," says Federico Santi, an analyst at Eurasia Group, a New York-based research firm. "But this is proving unfeasible in practice, even in cases where it may be warranted, such as Italy."
Before it's here, it's on the Bloomberg Terminal.
LEARN MORE