Indian Stocks End Three-Day Rally as Rajan Holds Interest Rates
by
RBI move forecast by 27 of 29 economist in Bloomberg survey

Drop 'normal' after liquidity-driven rally: Kotak Old Mutual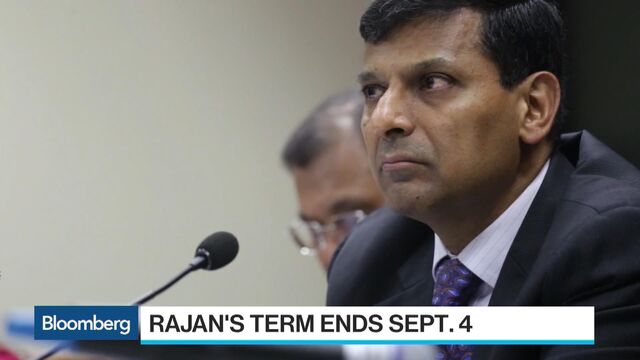 Indian stocks declined after central bank Governor Raghuram Rajan left interest rates unchanged at his last policy call and investor concern about high valuations resurfaced. 
Drugmaker Lupin Ltd. was the worst performer on the S&P BSE Sensex. Idea Cellular Ltd. slumped to its lowest since December 2012 after its earnings slumped 74 percent from a year earlier. ITC Ltd. fell to a two-week low. Housing Development Finance Corp. dropped for the first time in three days and Hero MotoCorp Ltd. retreated 1.4 percent.
The Sensex lost 0.4 percent at the close, ending a three-day rally that sent it to a one-year high. Foreigners have bought a net $5.1 billion of local shares this year, the most after Taiwan and South Korea, as flows to emerging markets accelerated amid a wave of global policy easing triggered by the U.K.'s vote in June to exit the European Union. The 22 percent climb from a February low has pushed up the gauge's price-to-earnings ratio to near the highest in 15 months.
"Our movement lately has been determined by foreign fund inflows and the market is giving away some of those gains," Hemant Kanawala, head of equities at Kotak Mahindra Old Mutual Life Insurance Ltd., which has about $3 billion in assets, said by phone from Mumbai. "Market expectation from the monetary policy was limited. There's not much to read into today's correction."

Foreign investors bought $176 million of local stocks on Aug. 8. They've been net sellers on just two days since July 1, as flows to emerging markets accelerated amid a renewed wave of global policy easing. The Sensex's price-to-earnings ratio of 16.3 compares with a multiple of 12.5 for an index of emerging markets.
Rajan held the repurchase rate at a five-year low of 6.50 percent as food prices threaten to push inflation above the nation's target. The move was forecast by 27 of 29 economists in a Bloomberg survey, with two expecting a cut to 6.25 percent. The next governor will need to assess whether the revival of the monsoon has created room for India to follow nations like Malaysia and Australia in easing as risks to the global economy mount.
"We need further evidence that inflation is cooling off because recent data points were somewhat on the higher side," said Kanawala. "If the effect of the monsoon plays out and inflation starts cooling off, a rate cut is a possibility. The market focus is now on who the next governor will be and the formation of the monetary policy committee."
The committee would be in place to make the next decision on interest rates, Rajan told reporters after the policy review.
Inflation Target
Although consumer inflation touched a 22-month high in June, reports of above-average rains in the annual June-September monsoon may provide some relief, particularly after the back-to-back droughts. At the same time, higher pay for civil servants and a planned national sales tax threaten inflation goals of 5 percent in March 2017 and 4 percent a year later, plus or minus two percent.
Rajan, a former International Monetary Fund chief economist, surprised India mid-June by announcing a return to academia at the end of his three-year term, a move that followed criticism of his policy decisions from a prominent member of Prime Minister Narendra Modi's party. The government has yet to name his successor.
Earnings Scorecard
Lupin tumbled 5.1 percent, the most since May 20. Standalone profit from operations before other income, finance costs and exceptional items was 14.5 billion rupees in the three months ended June, compared with 8.5 billion rupees a year earlier. Including its subsidiaries, the figure was 11.1 billion rupees versus 7.2 billion rupees. 
"The increase in difference between the standalone and consolidated profit from operations before other income, finance costs and exceptional items shows that the company is facing pressure from its units," said Chokkalingam G., managing director at Mumbai-based Equinomics Research & Advisory Pvt. "This spooked the market."
Idea Cellular slumped 5.8 percent. The company reported first-quarter net income of 2.2 billion rupees compared with 8.55 billion rupees a year ago. Earnings were announced after trading ended Monday.
Ten of the 19 companies on the S&P BSE Sensex that have reported June-quarter results so far, have disappointed investors.
Before it's here, it's on the Bloomberg Terminal.
LEARN MORE