Rajan's Parting Gift Spurs Bonds After 41% Gain in His Term
By
Focus on keeping liquidity easy to fuel more debt gains: HSBC

Rajan kept RBI's benchmark interest rate unchanged on Tuesday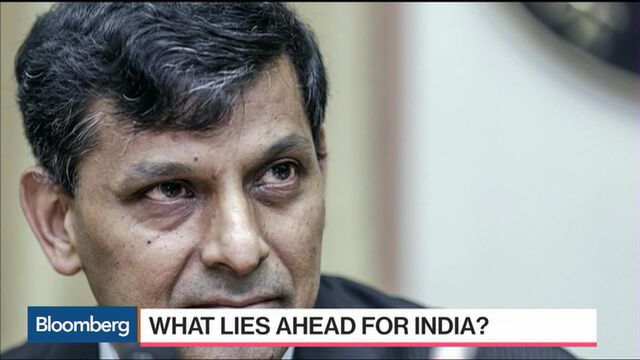 Raghuram Rajan said he enjoyed every minute as Reserve Bank of India governor. Bond investors have reason to feel the same way.
Presiding over his final interest-rate review, Rajan's announcement of more open-market debt purchases revived a rally that had been losing steam in recent days after benchmark 10-year notes capped their best month since 2013 in July. Yields dropped the most in almost two weeks on Tuesday, reclaiming three-year lows, as the RBI said its policy stance remains accommodative. Indian sovereign bond returns under the inflation-busting governor have been more than double that of the previous three years.
"The focus on keeping liquidity easy is going to provide further legs to the bond rally," said Himanshu Malik, a strategist at HSBC Holdings Plc in Hong Kong. "The RBI continuing to inject money through bond purchases further cements our call for the yield to drop to 7 percent by the end of 2016."
Indian bonds joined the global debt rally in July as a revival in monsoon rains, improving domestic liquidity and speculation that Rajan's successor will be more aggressive in lowering borrowing costs spurred demand. Foreign holdings of local-currency notes jumped the most in nine months and the rupee halted a three-month losing streak.

Rajan took charge at the RBI in September 2013. Rupee sovereign debt returned 41 since then in the period through Monday, more than double investors earned in the previous three years, indexes compiled by Bloomberg show. The Bloomberg India Local Sovereign Bond Index rose another 0.3 percent on Tuesday, the most since Aug. 1.
The RBI will purchase 100 billion rupees ($1.5 billion) of bonds on Thursday, adding to about 800 billion rupees it has infused since April 1 through such operations. Rajan, whose term ends Sept. 4, left the key repurchase rate unchanged on Tuesday, having reduced it to a five-year low of 6.50 percent in April. The move was predicted by 27 of 29 economists in a Bloomberg survey. Two forecast a cut to 6.25 percent.
Read: Cash Infusions Drive India's Interbank Rate to Lowest Since 2010
"The biggest positive for the bond markets is that the central bank remains committed to the easy liquidity stance," said Soumyajit Niyogi, associate director at India Ratings & Research Pvt., a unit of Fitch Ratings. "The rate decision was on expected lines."
The yield on 10-year sovereign debt slumped five basis points on Tuesday, the most since July 28, to 7.12 percent, according to the RBI's trading system. That was the lowest close since May 2013. The yield was little changed last week, after plunging 28 basis points in July, the most in 38 months. It fell three basis points more on Wednesday to 7.10 percent as of 9:29 a.m. in Mumbai.
Foreign investors raised holdings of rupee-denominated government and corporate securities by 69.5 billion rupees in July, the biggest increase since October. That contributed to the rupee's 0.8 percent advance last month, its first since March. The currency rose 0.2 percent to 66.6875 per dollar on Wednesday.
Rajan, a former International Monetary Fund chief economist, is credited with stabilizing the rupee, propelling India's foreign-exchange reserves to a record and pressuring banks to begin cleaning up billions of souring loans. He surprised India mid-June by announcing a return to academia at the end of his three-year term, a move that followed criticism of his policy decisions from a prominent member of Prime Minister Narendra Modi's party. The government has yet to name his successor.
Read: Five Candidates in Running to Replace Rajan, India Official Says
"The stance of monetary policy remains accommodative and will continue to emphasize the adequate provision of liquidity," according to the RBI's policy statement Tuesday. "Risks to the inflation target of 5 percent for March 2017 continue to be on the upside. In terms of immediate outcomes, much will depend on the benign effects of the monsoon on food prices."
Rajan has reduced the repo rate five times since early 2015. June's 5.77 percent increase in India's consumer prices from a year earlier, which was the biggest in 22 months, left him with little room to ease given the March inflation target.
"We continue to see very limited headroom for further rate cuts at the current juncture," Jay Shankar, an economist with Religare Securities Ltd. in New Delhi, wrote in a report. "Liquidity management would continue to be used as a 'stealth' policy tool to improve transmission and bring down rates."
Before it's here, it's on the Bloomberg Terminal.
LEARN MORE