If You Think Merkel Has Problems, Pity Her Coalition Ally
by and
Social Democrats at poll lows going into 2017 German elections

Rise in populism undermines support for the left across Europe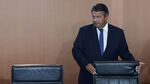 Sigmar Gabriel, Germany's most powerful Social Democrat, sat on a wooden bench along with an audience of apprentices and listened patiently as they laid out their concerns.
The vice chancellor and federal economy minister should have been preaching to the converted when he addressed the young labor-union members at a summer camp north of Berlin last week. Instead, as he tried to explain labor supply and demand and their comparatively rosy job prospects, some began to roll their eyes.
The Social Democratic Party that Gabriel leads just "doesn't connect with young people," Christin Richter, a regional youth representative for the DGB union group, said after the event. "I hardly know anybody between 18 and 30 who supports the SPD," she said, referring to the party by its German acronym. 
It's not just the young.
Germany's Social Democrats, advocates of workers' rights and equality since the party's foundation in 1863, are caught in a spiral of decline that's seen poll support hit record lows with no obvious way back. It's a fate shared by parties across the European left that struggle to counter rising inequality and suffer disproportionately from a populist focus on immigration and security threats that resonates with a growing section of society.
With leaders including Angela Merkel on the back foot, the combination of social democratic weakness and populism on the march threatens upsets going into Europe's super election year in 2017, when the Netherlands, France and Germany are all due to go to the polls. That equates to countries with a combined economic output of $6.5 trillion, or more than half the entire 19-nation euro zone.
For more on Europe's upcoming elections and political risk, click here
Brexit Breakdown
For a vision of what the future might hold look at Britain, where the United Kingdom Independence Party forced the Conservative government into holding a vote on European Union membership despite having just one seat in Parliament. Now, even a looming recession and a nation divided over Brexit has failed to rally the Labour opposition under Jeremy Corbyn, who faces a leadership challenge that threatens to split the party.
In Spain, the Socialists that alternated in power with the People's Party for all but four years since the transition to democracy in 1978 have been unable to displace an unpopular prime minister after two attempts in six months. The arrival of two new political parties, the liberal Ciudadanos and the anti-austerity Podemos, eroded support for both the traditional blocs with the result that Spain is still struggling to form a viable government.
Even in European nations where socialist parties govern, prospects are dim. Italian Prime Minister Matteo Renzi's Democratic Party has been harried by the anti-establishment Five Star Movement, which took control of Rome in June. Francois Hollande is at once Europe's most powerful socialist leader and France's least-popular president in history, with polls suggesting the far-right National Front could defeat him and advance to the second round next year.
'Fundamental Problem'
Globalization and the left's inability to mitigate its effects on the losers in society are at the root of the shift, fanned by a populist surge, according to Carsten Nickel of Teneo Intelligence in Brussels.
"The fundamental problem of inequality is something that haunts social democratic parties across Europe," Nickel said by phone. Lacking adequate answers, center-left parties "can't win back these traditional core voters that have been scared off."
In Germany, Merkel's approval rating has slumped amid revived criticism of her open-door refugee policy. But Gabriel's SPD is in far worse shape, and faces elections next fall exhausted after a term in junior coalition with Merkel's Christian Democratic Union-led bloc. The SPD slump reflects the fact that Merkel's party has conquered the political middle ground, while the anti-immigration Alternative for Germany, or AfD, takes votes from all the main parties.
Gabriel, 56, has struggled to revive Social Democratic fortunes since he took over in 2009 after the party suffered its worst election defeat since World War II. The SPD slipped two percentage points to 21 percent in the latest weekly Forsa poll, 15 points behind Merkel's bloc. That's a long way from the 39 percent won by Gerhard Schroeder in 2002, the last election that produced a Social Democratic-led government.
"It's tough to be a social democrat these days," said Nickel, who traced the party's decline to Schroeder's labor-market overhauls of the early 2000s. Credited with kick-starting Germany's economy -- unemployment is at a postwar low and the budget is balanced -- the reforms nevertheless included welfare cuts and scaled back protection for workers that hit SPD voters hardest.
Electoral Thrashing
Before going into coalition with Merkel three years ago, Gabriel won a list of concessions including establishing a minimum wage in Germany and an early-retirement option at 63. His reward was a series of thrashings in state elections earlier this year as the AfD made gains on the back of the refugee crisis.
Some of those who met with the SPD leader in Flecken Zechlin, about 100 kilometers (60 miles) north of the capital, see a period in opposition as the only way forward.
"This is no longer about winning the election," said Steven Roltsch, the 31-year-old chairman of the local SPD in the Brandenburg town of Gransee, not far from Merkel's home in Templin. "It'd be better for the SPD if they're not in government anymore."
Gabriel, who still must decide if he will challenge Merkel in 2017, recalled happier days for his party, when the labor unions were the SPD's backbone as it recorded victories under Willy Brandt and Helmut Schmidt in the 1960s and 1970s.
"The situation was simpler back then," Gabriel said.
Before it's here, it's on the Bloomberg Terminal.
LEARN MORE