Icahn 'Hopeful' Trump Wins Presidency on Economic Stance
by
Billionaire investor speaks by phone live on CNBC Tuesday

Carl Icahn acknowledges Trump 'made mistakes' last week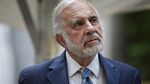 Investor Carl Icahn said he is "very hopeful" that Republican presidential candidate Donald Trump will win in November, praising the nominee's economic policy speech on Monday.
"If he sticks with that economic theme, he should definitely win hands down
because I don't know why you wouldn't vote for him," Icahn said Tuesday in a live phone-in interview with CNBC.
Icahn, who endorsed Trump in September, reiterated his support for the candidate, while acknowledging his fellow billionaire has "made mistakes" -- particularly last week.
He said he talks to Trump and expresses his views, but didn't join the official advisory group. Icahn said he wants to keep his options open to potentially fund a political action committee addressing his business and economic concerns.
"If I think it's going to make a difference, I'm willing to put in millions of dollars myself, because I think it's extremely important for this country to see Trump win," Icahn said. It wasn't clear if he was referring to donating to Trump's campaign, or through the PAC he reiterated he was still in talks to back.
U.S. 'Dysfunction'
For about 15 minutes, Icahn opined about politics and the economy, at times lamenting the loss of productivity in the U.S., calling the stock market "a mirage," and disagreeing with Republican views on running deficits. He said he has "nothing against" Democratic presidential nominee Hillary Clinton and said he wouldn't argue about personalities.
In a second interview later Tuesday on Fox Business, Icahn reiterated his support for Trump's policies on reducing regulations. He said certain rules have "run amok" and are "absolutely killing business" by discouraging capital spending on machinery and factories, hurting productivity and competitiveness.
The corporate raider-turned activist described Clinton as "an intelligent woman" and likened her to President Barack Obama, saying neither "understands business" or job creation.
Almost a year ago, Icahn posted a video on his website, criticizing "the dysfunction that is going on both in Washington and the boardrooms of corporate America" and lambasting the U.S. Congress for failing to reform taxes or immigration.
He backed Trump's calls to strike tax deals to encourage corporations to bring back overseas profits and stay based in the U.S.; to end the carried-interest tax discount for hedge fund and private equity managers; and said the Federal Reserve was overdue in beginning to raise interest rates.
Before it's here, it's on the Bloomberg Terminal.
LEARN MORE