Hedge Funds Make Last Place at $61 Billion Massachusetts Pension
By
Ten year returns show they trailed all competing asset classes

Other pensions have cut exposure as performance has lagged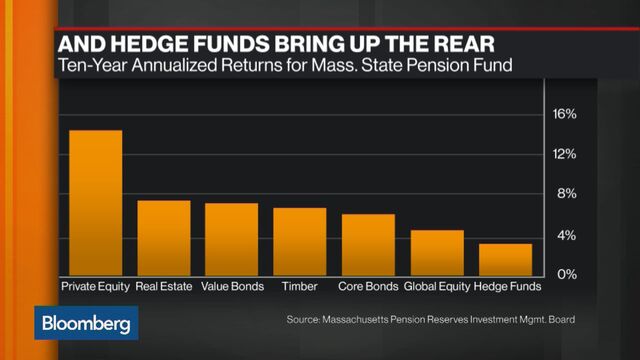 Public pension funds have soured on hedge funds.
The New Jersey Investment Council last week voted to cut its target allocation to hedge fund managers by 52 percent, following similar moves by pensions in California and New York. The institutions are disappointed by the combination of high fees and modest returns the hedge funds have delivered.
The chart below explains some of that unhappiness. In the 10-years ended June 30, the $60.6 billion Massachusetts public fund realized a 3.2 percent average annual return, net of fees, from the hedge funds in which it invests. That was the worst performance of seven asset classes the fund holds, according to data released last week for the Pension Reserves Investment Trust Fund. Private equity, with a 14.4 percent annual gain, was the top performer. The fund overall returned 5.7 percent a year.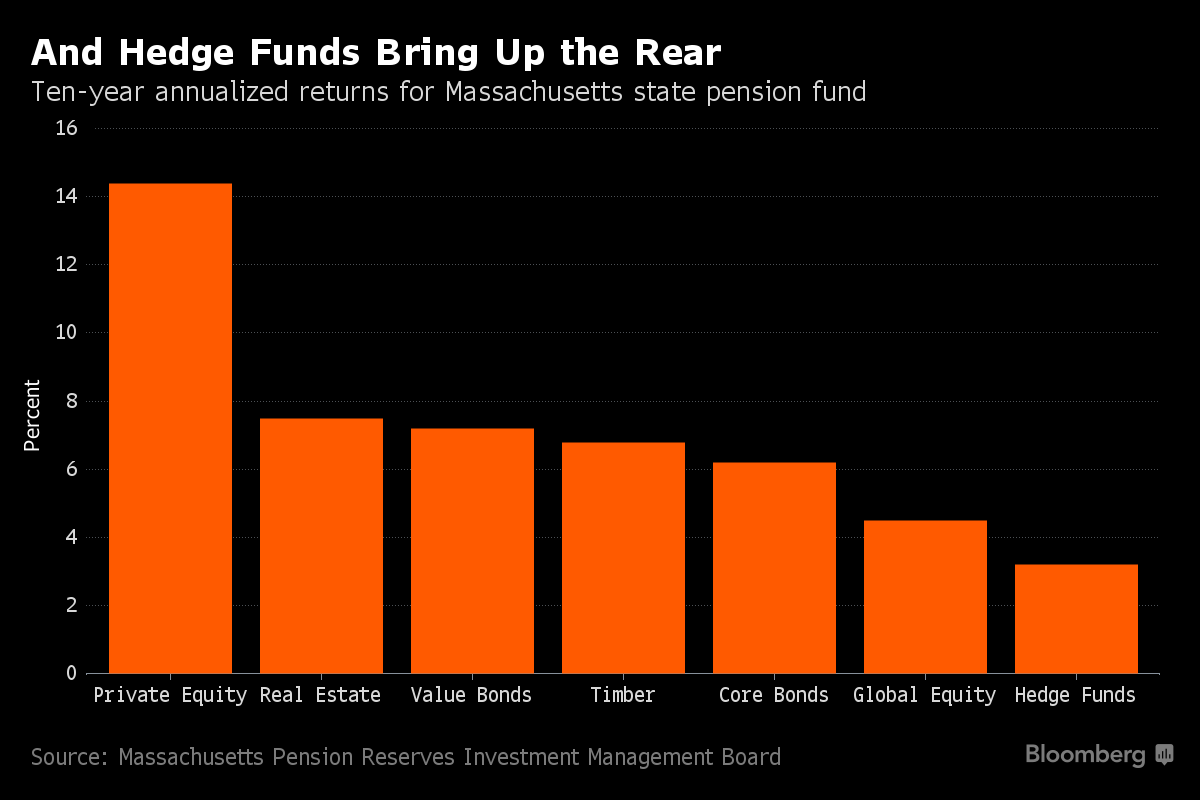 It's not that Massachusetts picked especially bad managers. Its hedge fund returns are roughly in line with industry averages. The fund weighted composite index created by Hedge Fund Research Inc. gained 3.6 percent a year over the same stretch.
Unlike some of its peers, Massachusetts hasn't reduced its roughly 10 percent allocation to hedge funds. Rather, the pension in 2015 began making investments in the asset class through managed accounts rather than co-mingled accounts. The strategy has resulted in fee discounts of 40 to 50 percent, said Eric Nierenberg, who runs hedge funds for Massachusetts' pension.
"We are hedge fund skeptics," he said in an e-mailed statement. The investments made through the new structure have performed "considerably better" than the pension's legacy holdings, Nierenberg said.
Before it's here, it's on the Bloomberg Terminal.
LEARN MORE