China Warns U.K. That Relations Hang on Hinkley Point
by
Liu Xiaoming addresses the U.K.'s energy security concerns

China has track record of safe nuclear operations at home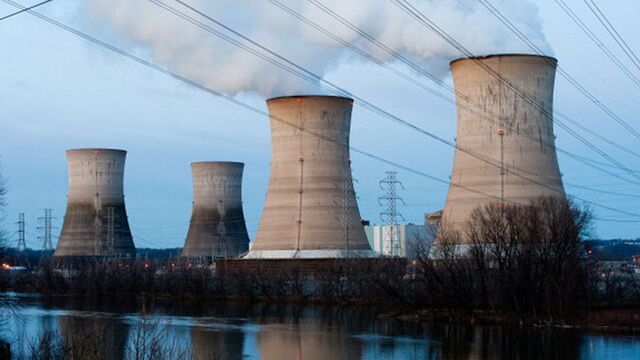 The Chinese ambassador in London said the Hinkley Point nuclear power plant represents a "crucial historical junction" for relations between the U.K. and China, which has a minority stake in the the 18 billion-pound ($24 billion) project.
In an opinion piece published in Tuesday's Financial Times, Liu Xiaoming said the cancellation of the plant could affect commerce with Britain's second-largest trading partner outside Europe.
The comments, an unusually forceful intervention in a domestic policy decision, come as Prime Minister Theresa May's government considers whether to proceed with Britain's first nuclear reactors in more than 20 years. Before May took office, one of her closest allies had questioned whether allowing China a role in U.K.'s nuclear industry posed a national security threat.
"Mutual trust is the very foundation on which bilateral cooperation is built," Liu said.
For a QuickTake Q&A on Hinkley Point, click here.
Hinkley Point, designed to replace aging atomic plants and help the U.K. meet carbon-reduction targets, has been criticized for its expense. Electricite de France SA, the French utility leading the project, approved the plant's construction at a board meeting last month, but the British government said that it needed more time to think, delaying the final investment decision until September.
Careful Consideration
The U.K. is "carefully" considering the future of the nuclear power plant and will continue to seek a strong relationship with China, May's office said in an e-mailed response to Liu's warning on Tuesday afternoon.
"Britain remains open for business and we are the same outward-looking, globally minded country we have always been," read the statement.
In a blog post written last year before becoming May's chief of staff, Nick Timothy exposed additional concerns about energy security. He warned that involvement by Chinese partners in the project could allow them to "shut down Britain's energy production at will."
Liu pointed to a 30-year track record of safe nuclear operations at home and his country's membership in the International Atomic Energy Agency.
International Standards
"Thanks to safeguards of international standards, there has never been a concern that foreign companies might control China's nuclear reactors," he wrote.
China has invested more in U.K. over the past five years than Germany, France and Italy combined. President Xi Jinping said that they were in a "golden era" of bilateral relations during his visit last year, which secured deals valued at 40 billion pounds.
The ambassador asked for clarification in the role of nuclear in the country's energy policy and that Chinese companies are considered to be good partners. He also said that he hopes that the U.K. government will come to a decision as soon as possible.
Nuclear Debate Intensifies in Post-Fukushima World: QuickTake
The U.K.'s decision to subsidize power generated from Hinkley Point at about twice the current market rate for electricity, or 92.50 pounds a megawatt hour, has prompted criticism at home and abroad.
"There are lots of other things we can do with the Chinese which are much positive and are economically, socially useful," Legal & General Group Plc's Chief Executive Officer Nigel Wilson said Tuesday in an interview on Bloomberg Television. He favors abandoning Hinkley in favor of smaller power generation units.
Before it's here, it's on the Bloomberg Terminal.
LEARN MORE