China Bond Yield Sinks to Seven-Year Low as Foreign Inflows Rise
Bloomberg News
Debt gains come as global holdings jump most since 2014

Bull market to continue for rest of the year, analyst says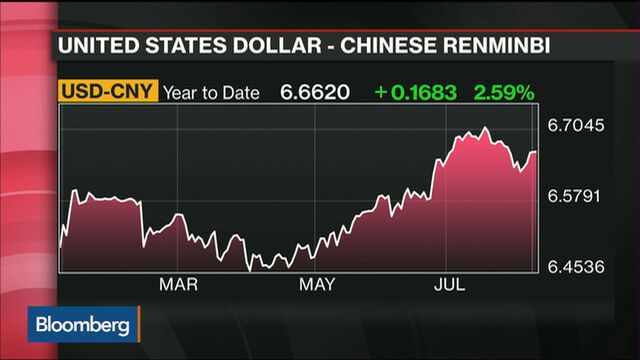 Chinese bonds advanced, with the 10-year yield dropping to match the lowest levels since 2009, as foreign inflows increase and investors seek safety from a rising number of corporate failures.
The yield on sovereign notes due 2026 fell three basis points to 2.72 percent as of 4:54 p.m. in Shanghai on Tuesday. That level, the least in seven years for a benchmark 10-year security, was last seen this January when a series of cuts to the yuan's fixing ignited volatility around the world. The one-year yield declined one basis point to 2.18 percent, the lowest since April.
Chinese sovereign bonds have benefited from overseas inflows, which surged the most in two years in June, after the nation eased access to domestic markets. Demand for the relative safety of government debt has been driven also by a rising number of company defaults, with a Chinese shipbuilder becoming the latest to renege this week. While recent data including that on factory deflation suggest the economy is stabilizing, gross domestic product is projected to expand at the slowest pace in more than two decades this year.
"Investors are more interested in government bonds as the slowing economy has reduced risk appetite and as default risks were exposed in the corporate debt market," said Liu Dongliang, a senior analyst at China Merchants Bank Co. in Shenzhen. "The bull market will continue for the rest of the year, as supporting factors will continue to exist and as the market may still expect the central bank to ease monetary policy to support growth."

The increased demand for sovereign debt was reflected at the government's latest issuance of 10-year securities last week, which fetched a coupon of 2.74 percent, the lowest since at least 2004. Overseas investors increased their holdings of onshore bonds in June by 47.7 billion yuan ($7.2 billion) to 764 billion yuan, latest available data from the People's Bank of China show.
The rising interest comes amid efforts to boost foreign participation and understanding of central bank policy. Chinese authorities have since February allowed all types of medium- to long-term investors to access the interbank bond market, and said that approved fund managers under the Qualified Foreign Institutional Investors program no longer have to apply for quotas to invest onshore. The U.K.'s vote to leave the European Union has also spurred a global rush for haven assets.
China's factory-gate deflation eased for the seventh straight month in July, signaling improving conditions for manufacturers, data released Tuesday show. The producer-price index fell 1.7 percent from a year earlier, the National Bureau of Statistics said, compared with economists' forecast for a 2 percent drop. The consumer-price index rose 1.8 percent, matching estimates.
In currency markets, the yuan was little changed both onshore and offshore. The PBOC strengthened its daily reference rate, which limits onshore yuan moves to 2 percent on either side, by 0.03 percent to 6.6594 per dollar.
— With assistance by Robin Ganguly, and Tian Chen
Before it's here, it's on the Bloomberg Terminal.
LEARN MORE