Brexit Timing Illusions Exposed in Unusual Tale of Greenland
by , , and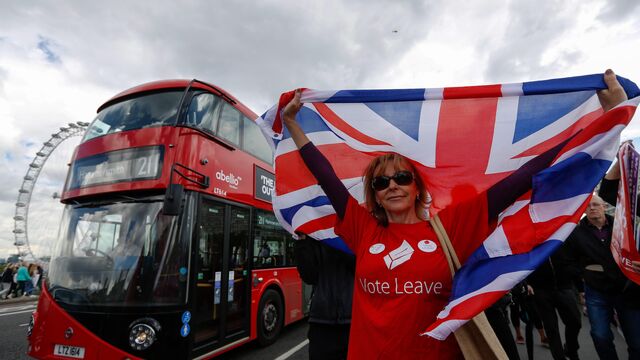 There's a man in the European Union who has already led a country out of the bloc. His name is Uffe Ellemann-Jensen. He's a former foreign minister of Denmark who handled negotiations on Greenland after its citizens voted to leave the EU in 1982.
With a population of just 56,000 and a gross domestic product of about $2.5 billion, Greenland still took three years to exit. Ellemann-Jensen says any notion in Britain that all it needs to do is trigger Article 50 and two years later it will be out is illusory.
"Negotiating Greenland's exit was a fairly simple task that resulted in a relatively simple and easy to understand protocol," Ellemann-Jensen, 74, said in an interview. "That took three years. Britain will take much longer. It's impossible to say how long."

Though there are virtually no similarities between Greenland and the U.K., it's worth pausing to appreciate how long it took a country whose institutions weren't intertwined with those of the EU to leave the bloc. The challenge is to imagine how Britain, whose laws and customs are deeply enmeshed in the fiber of the EU, will ever extract itself.
U.K. Prime Minister Theresa May has already indicated that triggering Article 50 -- the start signal for official exit talks -- won't happen this year. Meanwhile, the bloc's 27 remaining members are constructing a growing list of demands that threaten to make any negotiations more than a little unwieldy. Britain's idea of maintaining similar trade relations to those it enjoys now, without granting EU citizens the same freedom of movement across its borders as they currently enjoy, looks increasingly far fetched.
"Basically, the British need to take time to understand what an enormous task they took upon themselves," Ellemann-Jensen said. "Asking for a Brexit" and expecting it to be "clear-cut" simply "can't happen," he said.
As part of the Kingdom of Denmark, Greenland joined the EU -- or the European Communities, as it was then called -- in 1973. (That, coincidentally, is the same year the U.K. joined). In a 1979 referendum, more than two-thirds of Greenlanders backed home rule. With voters feeling they'd been dragged into the EU as a Danish colony, the island held an in-out referendum three years later to protect its fishing industry, which makes up about 90 percent of Greenland's exports. Anger over quotas resulted in 53 percent of voters backing an EU exit.
Ellemann-Jensen led the talks together with Greenland's business minister, Lars-Emil Johansen. The latter later went on to become the island's premier and is now chairman of its parliament. The 69-year-old says the EU didn't give Greenland a timetable. "But we had to do a lot of waiting," Johansen said in an interview.
For a Q-and-A on Greenland's relationship with the EU and Denmark, click here.
Two years into Greenland's exit process, havoc broke out at home, Johansen recalls.
The exit deal struck by his minority government "was under attack by a broad part of the population who thought we sold ourselves too cheaply on our fishing rights," he said.
The result was that for the first time in Greenland's history, a government was toppled over an agreement that had already been approved by parliament. The no-confidence vote triggered an election in 1984.
"It was a huge deal for domestic politics in Greenland," Johansen said. "The doomsday prophets said that Greenland could never get an exit deal that would be as beneficial as the conditions under EC membership."
But Johansen's Siumut party was re-elected and the island left the EU the following year. Greenland's economy then expanded in the years following the exit, "proving doomsday prophets wrong," Johansen said.

According to Ellemann-Jensen, there is one area of overlap between Greenland and the U.K., namely security. The Atlantic island, which is home to the U.S. Thule Air Base, negotiated its exit at a time when western Europe still faced the threat of a hostile Soviet Union during the Cold War.
"Everybody knew Greenland was strategically important and the Europeans needed to make a deal that kept the Greenlanders happy," he said. "The U.K. and Europe remain crucial to their mutual security, so neither has any interest in Britain drifting too far off to sea."
Ultimately, Britain will need to find a solution that doesn't make life difficult for the remaining EU members, Ellemann-Jensen said. A pragmatic fix might be to copy Denmark's opt-out model, which in its case keeps it out of Europe's currency, defense and justice unions.
"The opt-outs have been a pain in the backside for Denmark, but have allowed the rest of the member states to move along without any obstacles," he said. "In the end, I believe that will be the most feasible solution that the British should hope for."
Sign up to receive the Brexit Bulletin, a daily briefing on the biggest news related to Britain's departure from the EU.
Before it's here, it's on the Bloomberg Terminal.
LEARN MORE