Brexit Bulletin: What the Rest of the EU Wants
EU members give their Brexit demands, while consumers show resilience
by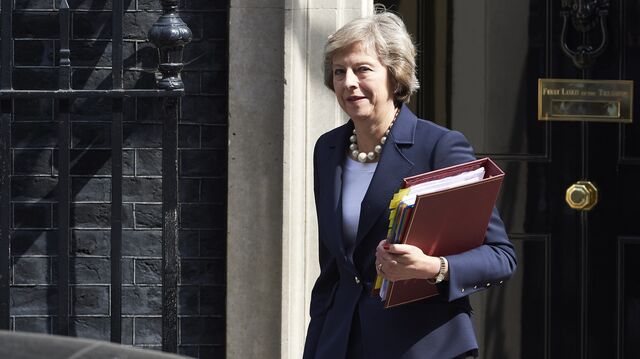 Sign up to receive the Brexit Bulletin in your inbox.
What are the 27 other EU countries hoping to get out of Brexit talks? Bloomberg reporters put that question to governments across the continent and came away with a web of priorities and red lines that can't be crossed.
Several countries including Germany, Portugal and the Czech Republic say the U.K. must accept freedom of movement rules in return for single-market access, writes Bloomberg's Alan Crawford. France may be ready to go even further and link free movement to Britain's ambition of keeping the so-called passport rights that allow banks to sell services on the continent. 
Just three EU members—Denmark, Austria and Bulgaria—cited a shared concern with Britain over free movement.  
Other highlights from the survey include: 
France and Denmark are concerned with reciprocal access for fishermen to their respective waters
Spain will press for joint sovereignty over Gibraltar
Cyprus and Greece want to avoid further damage to the pound, which could keep British tourists away
Baltic and eastern European states want reassurances about security in the face of Russian aggression
Malta wants to keep preferential access to British universities for its young people
Romanian Labor 
Romanian central bank board member Daniel Daianu also weighed into the debate on free movement today. Romania, whose citizens have flocked to fill U.K. jobs, should consider negotiating a bilateral labor deal with Britain if the final Brexit agreement doesn't allow free movement. Poland is already considering such an agreement, he said. 


Barbecues Beat Brexit
Consumers put Brexit anxiety to one side in July as warmer weather boosted demand for food, drink and summer clothing, according to the British Retail Consortium. The 1.1 percent growth in same-store sales was the most since January.  Meanwhile, Rupert Murdoch's News Corp. said it hadn't seen any impact on its U.K. business from Brexit. 

The consumer data, which echoes a similarly resilient set of numbers yesterday, will feed into Bank of England policy makers' analysis of the referendum fallout. The BOE's Ian McCafferty writes in today's Times that the central bank should follow a gradual approach in how it responds to Brexit, because information on how the economy is reacting is "still very limited."
The central bank "faces a set of economic circumstances that make assessing the appropriate amount of policy stimulus more difficult," McCafferty said in an opinion piece. "I prefer to learn as we go."

On the Markets
Bonds advanced around the world, spurred by central banks' commitments to boost growth and a dimming outlook for inflation as commodities declined. The pound fell for a fifth day as the Bank of England resumes debt purchases to combat the fallout from Britain's Brexit vote. European stocks edged higher.

And Finally...
The U.K.'s video games industry is pushing for more tax breaks in the wake of Brexit, Bloomberg BNA reports. Gamemakers, like those in other industries, are worried that the U.K.'s divorce from Europe will make it harder to recruit people from other EU countries. 
About 15 percent of the games-development workforce comes from other EU countries, according to the Independent Game Developers Association.
For more on Brexit follow Bloomberg on Twitter, Facebook and Instagram, and see our full coverage at Bloomberg.com
Before it's here, it's on the Bloomberg Terminal.
LEARN MORE