markets
Yuan Falls by Most in Three Weeks as U.S. Jobs Data Boost Dollar
By
U.S. report taken as sign economy is stabilizing: Mizuho

Yuan's daily fixing set at lowest level in more than week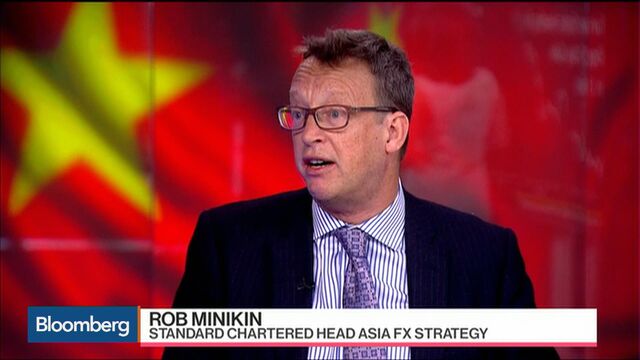 The yuan fell by the most in three weeks after a better-than-expected U.S. jobs report fueled speculation the Federal Reserve will raise interest rates this year.
China's central bank cut its daily reference rate to the lowest in more than a week after a gauge of dollar strength climbed Friday. A U.S. report released over the weekend showed that non-farms job figures rose by more than expected. China's exports remained sluggish last month, customs data show, and imports slumped. The nation's foreign-exchange reserves were little changed in July, data showed Sunday, suggesting an easing of capital outflows.
"Investors are pricing in expectations for a Fed rate hike by year-end," said Ken Cheung, a foreign-exchange strategist at Mizuho Bank Ltd. in Hong Kong. "Sensitivity to Chinese data is lower now because people's expectations are that the data won't be too bad and fundamentals are stable."
The yuan declined 0.16 percent to 6.6609 a dollar as of 5:36 p.m. in Shanghai, the biggest drop since July 18. The offshore exchange rate in Hong Kong fell 0.08 percent. The PBOC weakened its daily fixing by 0.31 percent to 6.6615.

U.S. employers added 255,000 jobs in July, 75,000 more than analysts surveyed by Bloomberg had estimated, tempering concern that economic growth is slowing. 
China's foreign-exchange reserves fell by $4.1 billion to $3.2 trillion in July, in line with the median estimate of economists surveyed by Bloomberg. A stronger yen and euro also aided the dollar valuation of the stockpile. Reserves will remain mostly stable this year as the country continues its tight control of outflows, Tommy Xie, a Singapore-based economist at Oversea-Chinese Banking Corp., wrote in a note.
China's exports fell 4.4 percent in dollar terms in July, more than the 3.5 percent decline analysts surveyed by Bloomberg had expected. A Bloomberg replica of the trade-weighted CFETS RMB Index, which tracks the yuan against 13 currencies, was little changed on Monday. The chances of a Fed interest-rate increase by the end of the year have risen to 47 percent, from 37 percent a day before the jobs data.
China's drive to have the yuan used more globally is facing a setback, Yu Yongding, a former academic member of the PBOC's monetary policy committee, said in response to e-mailed questions. The yuan's greater global use in the past couple of years has been based on expectations of a stronger currency, but that foundation wasn't solid because once expectations reverse, non-residents would ditch their yuan assets, he said.
The two main obstacles to progress are a lack of elasticity in the exchange rate and capital controls, Yu said.
— With assistance by Kyoungwha Kim
Before it's here, it's on the Bloomberg Terminal.
LEARN MORE