markets
Valeant Turns From Buyer to Seller as Debt Repayments Loom
By and
Embattled drugmaker seeks to unload only 'non-core' businesses

'It's not so much 'Can they get a sale?' It's at what price.'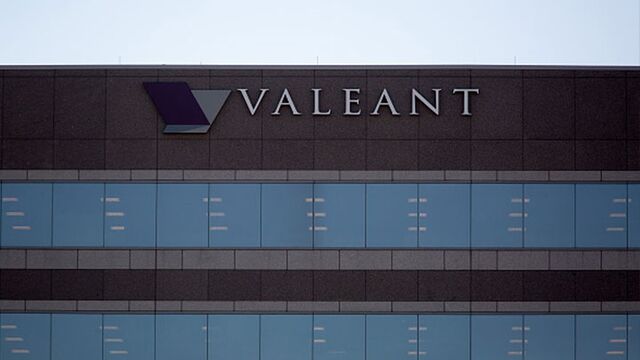 Over the last six years, Valeant Pharmaceuticals International Inc. piled up a mountain of debt building its business through more than 50 acquisitions. It now may have to sell some of those very same assets to help pay off almost $5 billion that will come due by or during 2018.
If that sounded bad enough, there's a related challenge looming.
"It's not so much 'Can they get a sale?' It's at what price," Piper Jaffray analyst David Amsellem said. Many of Valeant's acquisitions were made under far different circumstances -- before the drugmaker attracted harsh scrutiny over its business practices and was forced to moderate or even cut drug price increases that were a key part of its ability to generate cash.
"You buy dodgy assets at relatively high prices, you jack up the prices of the underlying products, cut costs to the bone and now you're facing your moment of reckoning," said Amsellem, who has an "underweight" rating on the stock. "It's pretty ugly."
The bills are approaching fast. There are about $3.37 billion of bonds and loans that come due by 2018, according to a financial filing for the first quarter. The company also has a revolver due in 2018 that has $1.45 billion drawn from it. So far Valeant has said it would pay back $1.7 billion this year. The company reports second-quarter financial results Tuesday.
Laurie Little, a spokeswoman for Valeant, declined to comment. Chief Executive Officer Joseph Papa said in June that the company had a "strong liquidity position" and that Valeant was comfortable with its debt obligations.
Asset Sales
Valeant has already started to consider sales or offers for some small assets, according to people familiar with the situation. These may include its constipation treatment Relistor, which could be valued at $400 million to $500 million, and dermatology units Obagi Medical Products and Solta Medical, which could fetch as much as $500 million, according the people.
It's not clear that the leaders of the company have the same viewpoint on what needs to be done. In May, then-new CEO Papasaid he didn't see the need to sell any assets to pay down debt, though the company might consider it. In June, he said he'd look at selling "core" assets at the right price. Then in July, activist investor Bill Ackman, who sits on the board of the company, said there were non-core assets worth as much as $10 billion that could be for sale.
Crown Jewels
So far, the company has said it won't give up crown jewels like Bausch & Lomb, bought for $8.7 billion in 2013. Even if Valeant tried to sell the eye-care supplier, it's not clear what it would get for it. Wells Fargo analyst David Maris said in a research note that he's "surprised by what appears to us to be very little growth" under Valeant's ownership.
In 2012, before being acquired by Valeant, Bausch & Lomb's sales totaled $3.04 billion, according to Maris. Four years later, in June 2016, Valeant reported that the division, when combined with skin care and other over-the-counter drugs, delivered $3.5 billion in global sales for the year ended March 31. The addition of other assets to B&L's sales figures makes it impossible to know whether the core business has grown.
Valeant has previously said it has no plans to sell the Bausch & Lomb unit. Little, the spokeswoman, declined to comment.
There's another question -- hold on to the cash flow from existing businesses, or sell them off now to quickly deleverage. Money from the sales may not be enough to offset declines in the cash flow that analysts are expecting, and could put the company at risk of violating loan covenants that require it to keep Ebitda above certain thresholds relative to debt and interest expenses.
What to Sell?
"We don't think that Valeant should sell more than they have to," Rodman & Renshaw analyst Ram Selvaraju said. "They only should get rid of declining businesses."
By that he means businesses where Valeant is losing money. On its most recent earnings call in June, the company said it was losing money on some of the dermatology prescriptions it was selling through a distribution program with Walgreen Boots Alliance Inc. drugstores, but it was unclear exactly which lines of business those were from.
"The longer they wait, the worse the situation becomes," Selvaraju said. "They have to sell these things as quickly as possible."
Analysts say there's a chance that when Valeant reports results Tuesday, it may cut its full-year Ebitda guidance, a measure often used to asses how much cash a company can generate for debt payments. Ebitda stands for earnings before interest, taxes, depreciation and amortization.
"They have many challenges," said Michael Levesque, an analyst with Moody's Investors' Service. "The ratings are under pressure but there is some time given that the maturities do not really increase until 2018. If the business were to erode much faster than expectations, then the need to do asset sales would grow."
Before it's here, it's on the Bloomberg Terminal.
LEARN MORE