Vail to Buy Whistler Blackcomb Ski Resort for $1.05 Billion
by and
Transaction offers 43% premium for Whistler's shareholders

Whistler CEO Dave Brownlie to join Vail senior leadership team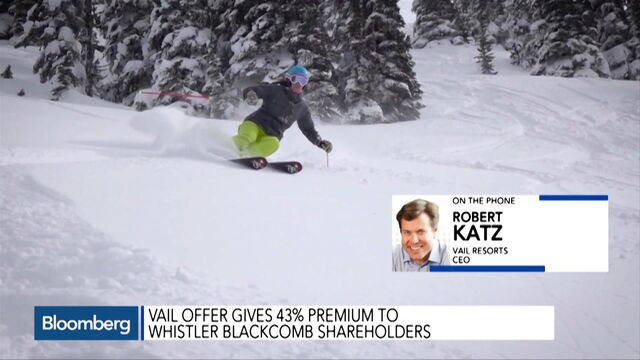 Two of North America's biggest ski resort operators are combining in a C$1.4 billion ($1.05 billion) deal that allows them to benefit from currency swings on either side of the U.S.-Canada border and offers stability as climate change becomes a bigger issue.
Vail Resorts Inc., which owns ski destinations across the U.S., agreed to buy Canada's Whistler Blackcomb Holdings Inc., operator of North America's biggest and busiest ski resort, for C$17.50 a share in cash and 0.0975 shares of Vail stock, according to a statement Monday. The deal has a total value of C$36 a share, or 43 percent more than Whistler Blackcomb's closing price on Aug. 5.
The transaction provides the Canadian company with increased financial strength to expand, while giving Vail one of the world's most popular mountain resorts. The property in Whistler, British Columbia, about 75 miles (120 kilometers) from Vancouver, draws about 2 million people each year to its slopes. While traffic has increased as the low Canadian dollar attracts global visitors, management has expressed concern about the effects of climate change on its operations and sought to diversify.
"We've always been a successful company on our own, and this is just like adding a bigger engine to the machine to allow us more strength and stability -- to make us move faster no matter what is thrown at us, like global weather conditions or economic factors," Whistler Blackcomb Chief Executive Officer David Brownlie said in an interview.
Whistler Blackcomb shares rose 45 percent to C$36.56 at 3:34 p.m. in Toronto trading. Vail rose 7.5 percent to $154.80, on pace to close at a record high.
Vail, Heavenly
With the acquisition, Vail will control major high-end ski destinations including its namesake property in Colorado, Heavenly in the Lake Tahoe area of California and Nevada, and Park City Mountain Resort in Utah, the largest U.S. ski resort. Whistler Blackcomb passes for this ski season will be honored, and future passes will be sold as part of Vail's season-pass program, which gives holders access to a network of resorts.
Brownlie will join Vail's senior leadership team in the mountain division and will continue as the resort's chief operating officer, according to the statement. Whistler Blackcomb, whose board has unanimously approved the deal, also is nominating one of its directors to join Vail's board.
Planned Expansion
Vail said it will "invest substantially" in Whistler Blackcomb's infrastructure and four-season activities. It plans to continue with the Canadian company's planned Renaissance strategic plan, which includes an indoor water park and upgrades to lifts, snow-making and terrain, as well as two real estate development projects. Vail said it would offer an assessment of its capital spending on Whistler Blackcomb on a conference call in September.
The expansion depends on the renewal of a master development agreement with First Nations communities that control land where the resort is located. Brownlie said he's had discussions with local city-council members, who have been supportive, and that he's reached out to the chiefs of both the Squamish and Lil'wat. Whistler Blackcomb employees will continue working with aboriginal groups, according to the statement.
Olympic Boost
Whistler Blackcomb, which opened in 1966, is a destination for skiers from as far away as Australia and Beijing. The resort's popularity, which grew following the 2010 Winter Olympics in Vancouver, helped push adjusted earnings before interest, tax, depreciation and amortization to a record in the fiscal second quarter, ended March 31. Even during the 2014-2015 skiing season, when the lowest amount of snow fell in 36 years, Whistler Blackcomb was able to increase earnings, with a 7.6 percent jump in adjusted EBITDA.
That caught the eye of Vail, which operates 11 resorts. As temperatures rise globally, ski areas worldwide have had to delay their season openings or close slopes early. While Whistler Blackcomb isn't immune to weather patterns, its environment is less variable than other destinations, Vail CEO Robert Katz said.
The transaction also lets Vail benefit from currency dynamics: with a strong U.S. dollar, Whistler Blackcomb is set to have as many as 2.6 million visitors this year, Brownlie said Monday. And in the future, if the Canadian dollar strengthens against its U.S. counterpart, locals would be able to capitalize on their currency and visit Vail's U.S. locations.
Vail executives said on a conference call they they expect the deal and a few other initiatives to contribute C$170 million to its resort EBITDA in 2018.
Greenhill & Co. served as financial adviser to Whistler Blackcomb while Osler, Hoskin & Harcourt LLP and Farris, Vaughan, Wills & Murphy LLP were its legal advisers. Stikeman Elliott LLP and Gibson Dunn & Crutcher LLP provided legal counsel to Vail.
Before it's here, it's on the Bloomberg Terminal.
LEARN MORE