markets
U.K. Mortgage Bonds Are the Collateral Damage in Carney's Stimulus
Sales of U.K. residential mortgage-backed securities are set to decline, starving investors of highly-rated assets.
By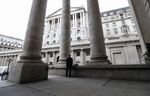 Bank of England Governor Mark Carney's exceptional stimulus package will help the U.K. economy ride out the Brexit shock. It won't help the country's 77 billion pound ($100 billion) mortgage bond market though.
Call it collateral damage: the BOE's new Term-Funding Scheme, or TFS, — a 100-billion pound program designed to help lower borrowings costs feed through to the real economy — will discourage issuance, according to Bank of America Corp. analysts led by Alexander Batchvarov. Supply of new deals matters because Britain's residential mortgage-backed securities (RMBS) market is the biggest in Europe and is relied on by investors ranging from pension funds to asset managers as a source of highly-rated paper.
The TFS announced last week provides funding for banks at interest rates close to the BOE's main rate, which it cut to a record low of 0.25 percent, meaning banks will have little incentive to borrow in the public debt markets.
And that comes after a previous BOE program known as the Funding for Lending Scheme, or FLS, which was designed to cut borrowing costs for households and companies, suppressed sales since 2012. (Banks with outstanding balances in the current FLS can refinance those in the TFS.)
The TFS "pushes the overall need to return to securitisation markets further into the future, so U.K. RMBS issuance is likely to stay low for longer," said the Bank of America analysts.

Still, while sales of the debt may decline, the BOE's stimulus will provide a boost for those already holding the debt, according to the Bank of America analysts. Credit spreads could tighten thus delivering better performance for existing holders. 
Before it's here, it's on the Bloomberg Terminal.
LEARN MORE