U.K. Labour Challenger Pledges New 'Industrial Revolution'
by and
Smith vying with Jeremy Corbyn for opposition party leadership

Leadership candidate reiterates vow for second Brexit vote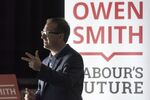 Labour Party leadership candidate Owen Smith pledged to lead Britain into another industrial revolution, creating jobs in new industries while giving Britons a second vote on membership of the European Union.
With the economy "on the cliff edge of another recession," the Conservative Party has left Britain with the prospect of becoming the "sick man leaving Europe," Smith said on Monday in a speech in Newcastle, northeast England.
Smith is vying to wrest the leadership of Britain's main opposition party from Jeremy Corbyn, who has lost the confidence of most of his lawmakers while enjoying the support of the wider party membership. Smith contends that Corbyn is unable to defeat the Tories in a general election and the only way to implement Labour policies is to choose a leader who can.
"We need nothing short of a new industrial revolution," Smith said. "I want to make Britain the workshop of the world once more." He called on voters to "overturn the economic consensus that has dominated since the 1980s," leaving the U.K. "too reliant on financial services" and "insecure, low-skilled, and low-paid service jobs."
'Competitive Advantage'
According to Smith, the government the must back "the industries and jobs of the future," with a strategy to "support our existing industries such as the automotive industry, but also new industries where we can develop a competitive advantage."
Smith pledged billions of pounds of investment in green technology and infrastructure projects, and repeated a promise to put the results of Britain's Brexit negotiation to the public, saying voters "must be offered an opportunity to sign off the terms of a Tory deal on Europe."
Smith's campaign faces further headwinds after the High Court in London ruled on Monday that five Labour members who joined after Jan. 12 could vote in the party's leadership election.
Labour had banned recent joiners from voting unless they paid an extra 25 pounds ($33), but the court's decision now opens the door for 127,000 extra members to vote. Labour's finance spokesman John McDonnell, a Corbyn ally, called the result "a huge victory for Labour Party members and democracy."
The odds on a Corbyn victory shortened to 94 percent from 91 percent, according to bookmaker William Hill Plc. Labour is to appeal the ruling.
The struggle for Labour's future has left some of its lawmakers despondent. MP David Lammy, a former junior minister, said on BBC Radio 4 on Sunday he feels "serially depressed at what the Labour Party is doing to itself," adding that "the public are not going to thank us for it."
Before it's here, it's on the Bloomberg Terminal.
LEARN MORE