The Feds Don't Care If You Dropped Out of College. They Want Their Money Back
Half of recent dropouts are delinquent on their student debt.
By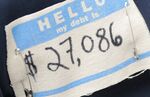 When it comes to collecting on student loans, the U.S. Department of Education treats college dropouts the same as Ivy League graduates: They just want the money back. New data show the perils of that approach.