Singapore Can Resist Divisive Politics Amid Terror Risk, PM Says
by
Lee Hsien Loong says Singapore acknowledges terrorism threat

Prime Minister makes remarks in message ahead of National Day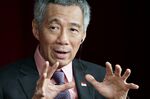 Singapore Prime Minister Lee Hsien Loong said the city-state can resist the forces that have made politics in many countries divisive and angry, even as he acknowledged the threat terrorism poses to the Southeast Asian nation.
"In multi-religious societies, terrorism has caused distrust and tensions," Lee said in a televised National Day eve message late Monday. "In many advanced economies, growth is disproportionately benefiting a minority of the population. In cities across the world, graduates struggle to find jobs and young couples can't afford homes."
As a result, voters in these countries are losing faith in moderate parties in the political centre and extreme views and parties are gaining support, Lee said, citing the Brexit referendum as a "vivid" example.
"Can Singapore be different? I believe that we can.," Lee, 64, said.
Singapore has taken policy steps and built a "harmonious multi-racial" society that can help counter such forces, he said, citing efforts to upgrade the workforce's skills and strengthen social safety nets.
"We know Singapore is also being targeted" by terrorists, the prime minister said. "Muslim Singaporeans are not afraid to take a forthright stand, to condemn terrorist attacks and the perverted ideology of the perpetrators. And non-Muslim Singaporeans distinguish clearly between their peaceful Muslim fellow citizens and jihadist terrorists."
Indonesian police said last week they had arrested six terror suspects on Batam island, 30 km (18.6 miles) away from Singapore, and one of them had planned to launch rockets into Singapore's Marina Bay.
Before it's here, it's on the Bloomberg Terminal.
LEARN MORE