Cure for Sick Profits Eludes S&P 500 as Rally Swells Valuations
by
Third-quarter to extend earnings contraction to sixth period

Energy, industrials have biggest downward profit revisions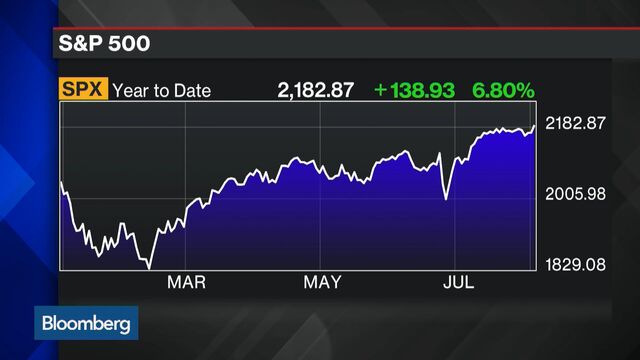 The profit recovery has been pushed back. Again.
Even as the S&P 500 Index sits near a record, analyst forecasts just turned negative for a sixth straight quarter for corporate results in the three months ending in September. Steadily falling profits are causing valuations to jump in the benchmark gauge for American equity, which slipped 0.1 percent to 2,180.89 as of 4 p.m. in New York.
Analysts tracked by Bloomberg have lowered forecasts by 2.9 percentage points since the end of June and now anticipate profits will contract by 0.6 percent in the third quarter, putting U.S. large-cap stocks on track for the longest profit slump since the financial crisis. Forecasts were cut for nine of the 10 main industries, with prospects for energy and industrial companies worsening the most.
"Over time, earnings growth is what we need to see, yet what we're seeing is more of a treading of water," said Kevin Caron, a Florham Park, New Jersey-based market strategist and portfolio manager who helps oversee $180 billion at Stifel Nicolaus & Co. "That's still preferable to a sharp earnings contraction, but it also leaves investors wanting more."

The S&P 500 slipped after closing at a record Friday amid better-than-forecast jobs data, with losses in health-care and consumer shares offsetting a rally among energy producers as crude oil climbed. The gauge held within the narrowest range in three weeks, while 5.9 billion shares traded hands, 16 percent below the three-month average. The Dow Jones Industrial Average lost 14.24 points, or 0.1 percent, to 18,529.29. The Nasdaq Composite Index decreased 0.2 percent after reaching a record for the first time in a year.
Unusual resilience in equity prices and falling earnings have swelled share valuations. The S&P 500 is trading for 20.5 times reported operating income, the highest multiple since 2009 and one of the richest valuations since the dot-com bubble burst. "Global equity valuations appear stretched," Goldman Sachs Group Inc. strategists wrote in a note Friday.
Sluggish global growth has sapped earnings power for companies from Caterpillar Inc. to Exxon Mobil Corp., with a stronger dollar depressing overseas demand at the same time the American economy generates lackluster expansion. While the profit contraction helped keep equities in check for most of the past year, they've churned to all-time highs on the prospect of ever more central-bank stimulus.
The reduction in earnings forecasts is keeping in form with the current streak of retreating profits, a recovery that has been pushed back every quarter since the middle of last year. Since June 2015, analysts have dropped estimates by an average of 5.3 percentage points between the beginning and end of each quarter.
"As long as nothing negative happens to derail the positive from Friday's jobs report, the market should continue to grind higher," said Michael James, managing director of equity trading at Wedbush Securities Inc. in Los Angeles. "The message being sent is that second-quarter earnings and guidance came in better than people thought. As long as world markets continue to be in the state they're in, the U.S. equity market continues to be the preferred destination for investors."
With the earnings season nearing completion, about 78 percent of S&P 500 firms that have reported beat profit predictions and 56 percent topped sales projections. Analysts have tempered their estimates on the size of the index's second-quarter net income decline, to 2.7 percent from a 5.8 percent drop less than a month ago. Walt Disney Co. Macy's Inc. and Nvidia Corp. are among those reporting this week.
The S&P 500 has rallied 19 percent since reaching a 22-month low in February, while the CBOE Volatility Index on Friday posted its longest stretch of weekly declines in almost eight years. The measure of market turbulence known as the VIX rose 1 percent Monday to 11.50, climbing from the lowest since July 2014.
Among shares moving on corporate news, Mattress Firm Holding Corp. more than doubled after Steinhoff International Holdings NV agreed to buy the specialty retailer for about $2.4 billion.
Allergan Plc fell 2.2 percent, pacing declines in health-care after its quarterly sales were short of analysts' estimates and the company's chief executive said the drugmaker isn't looking at any large deals. Bristol-Myers Squibb Co. extended its two-day selloff to 20 percent, the worst in 14 years, after saying Friday its drug Opdivo failed in a lung cancer trial that would've been the basis for widely expanding use of the treatment.
Before it's here, it's on the Bloomberg Terminal.
LEARN MORE