Russia 'Seriously Concerned' as Fighting Picks Up in Ukraine
by and
Foreign Minister Lavrov says Minsk accords in dire state

Russia backs Ukraine proposal for talks on sidelines of G-20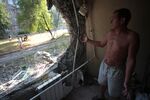 The Russian government is "seriously concerned" by an uptick in fighting in Ukraine's easternmost regions, Foreign Minister Sergei Lavrov said.
The latest violence breaches the peace accords signed in Minsk, Belarus, which are already in a dire state, Lavrov said Monday at a news conference in the Azeri capital, Baku. The situation in the area known as Donbas has worsened dramatically in recent weeks, the U.S. Ambassador to the Organization for Security and Co-operation in Europe Daniel Baer said during a July 29 conference call.
Diplomatic efforts have failed to halt a simmering conflict between the Ukrainian government and Russia-backed separatists, which has killed at least 9,500 people since 2014, according to United Nations estimates. The Ukrainian military reports daily cease-fire violations and said July was its deadliest month since August 2015.
"We are, of course, seriously concerned about what is happening in the Donbas," Lavrov said. "The current wave of verbal and practical military activity is of course contrary to the spirit and letter of the Paris agreements and the Minsk accords."
Russia backs the Ukrainian proposal of talks with France and Germany -- the Normandy format -- on the sidelines of the Group of 20 meeting in Hangzhou, China, on Sept. 4-5, Lavrov said.
Before it's here, it's on the Bloomberg Terminal.
LEARN MORE