Pound in Longest Losing Run Since Brexit as Expanded QE Begins
by
Sterling drops for fourth day versus dollar on BOE stimulus

U.K. five-, 10-year government-bond yields fall to records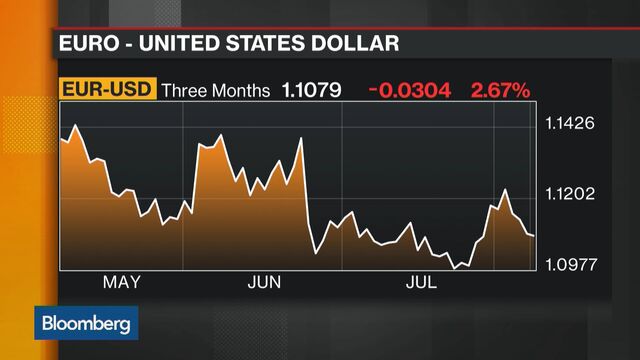 The pound fell for a fourth day, its longest losing streak since the Brexit vote, as the Bank of England started its expanded monetary easing program.
The additional stimulus also sent U.K. government bonds higher, pushing five- and 10-year yields to record lows.
As well as cutting interest rates for the first time since 2009, the BOE exceeded economists' expectations with its Aug. 4 policy announcement by increasing its gilt-purchase program by 60 billion pounds ($78 billion) to 435 billion pounds, starting Monday. The central bank is boosting the money supply, which tends to weaken a currency, in order to reinvigorate Britain's economy in the wake of the June 23 vote to leave the European Union.
"This is a continued feed-through into sterling weakness from the Bank of England," said Sam Lynton-Brown, a foreign-exchange strategist at BNP Paribas SA in London.
The pound has fallen against all 16 of its major peers this year and its outlook for the rest of 2016 looks bleak, with analysts surveyed by Bloomberg forecasting a drop to $1.26. Friday's stronger-than-predicted U.S. payrolls report will continue to hurt sterling versus the dollar because it raises the prospect of a Federal Reserve rate increase by September, Lynton-Brown said, adding that it may be a "key driver" of the currency dropping below $1.30.
BOE 'Priced'
"We're already pricing a lot for the Bank of England, whereas for the Fed very little is priced," Lynton-Brown said.
Sterling fell 0.2 percent to $1.3042 as of 4:30 p.m. in London, the longest run of declines since May 9. It sank to a 31-year low of $1.2798 about two weeks after the U.K. referendum. The pound dropped 0.1 percent to 84.92 pence per euro, touching the weakest level since July 12.
The BOE bought 1.17 billion pounds of gilts on the first day of its newly topped-up asset-purchase program. The additional purchases are due to be completed in six months.
Benchmark 10-year gilt yields dropped seven basis points, or 0.07 percentage point, to 0.61 percent, after sliding to an all-time low of 0.605 percent. The 2 percent security due in September 2025 rose 0.625, or 6.25 pounds per 1,000-pound face amount, to 112.305.
Five-year yields fell as much as six basis points to a record 0.158 percent. Thirty-year gilt yields also reached the lowest ever.
Pound Positive?
While the U.K. has seen contractions in its services and construction sectors since Brexit, the full extent of the economic fallout is yet to emerge -- and may even be positive for the pound, according to Richard Falkenhall, a strategist at SEB AB in Stockholm.
"The performance of the economy will be of growing importance for the pound as it also will feed into expectations on the BOE," Falkenhall said. "If the economic impact turns out to be less severe than currently believed, I would say we could start to see some recovery of the pound as it clearly is long-term undervalued."
Before it's here, it's on the Bloomberg Terminal.
LEARN MORE