LendingClub's Quarterly Loss Widens; CFO Dolan Steps Down
By
Firm names Coleman interim finance chief as Dolan leaves

Fannie Mae CEO Timothy Mayopoulos to join company's board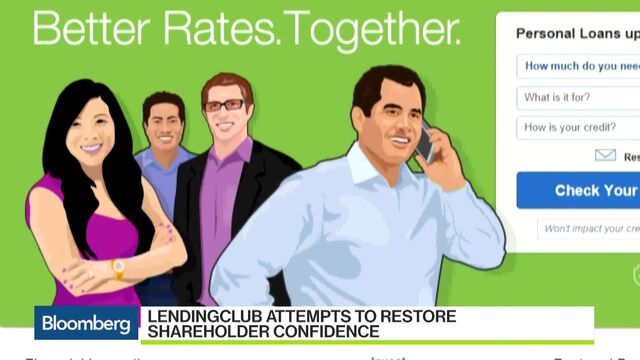 LendingClub Corp.'s loss widened to $81.4 million in the second quarter as the online loan venture sought to contain damage from a surprise leadership shakeup in May. On Monday, it announced the departure of its finance chief and bolstered its board.
The net loss compared with $4.1 million a year earlier. The adjusted per-share operating loss was 9 cents, missing the 3-cent loss estimated by analysts.
Chief Financial Officer Carrie Dolan resigned "to pursue a new opportunity," LendingClub said, naming corporate controller Bradley Coleman interim CFO. Fannie Mae Chief Executive Officer Timothy Mayopoulos, whose resume includes stints at some of the world's largest banks, will join the board.
"His well-established industry experience, track record, integrity and deep financial and legal expertise will be invaluable to LendingClub," Chairman Hans Morris said in a statement.
Morris and newly promoted CEO Scott Sanborn are trying to restore shareholder confidence. In May, LendingClub's founder and then-CEO, Renaud Laplanche, resigned amid an internal probe into a botched loan sale that revealed weaknesses in controls. That shook investor demand for the consumer loans the company arranges online.
Stock Drop
The revelations sent LendingClub's shares tumbling, prompted government probes and caused some loan buyers to re-evaluate purchases. In June, the company was forced to limit withdrawals from a fund it runs, after clients asked to pull out $442 million -- or 58 percent -- of assets under management.
The stock dropped 33 percent after Laplanche's exit through the close of regular trading Monday. It fell 2.3 percent to $4.68 in extended trading in New York as of 6:52 p.m.
Dolan told Sanborn earlier this year that she was looking to make a move, he said in an phone interview Monday. He asked her to postpone her plans to help weather the turmoil after Laplanche's exit. Now that things have settled some and the company has added to its leadership team, Sanborn said he was comfortable with Dolan making the move.
"How things felt in May and June is quite different from how they feel in August," he said. "I feel like we are ready."
Search Firm
The company hired a search firm to find Dolan's permanent replacement.
LendingClub resumed financial guidance on Monday, predicting third-quarter operating revenue of $95 million to $105 million. The company had halted the practice in May when it announced Laplanche's exit.
Loan originations amounted to $1.96 billion in the second quarter, an increase of 2 percent from a year earlier but down 29 percent from the first quarter.
At times, LendingClub has struggled to show business is stabilizing. In June, the company abruptly adjourned an annual meeting and rescheduled it for a few weeks later, when it revealed additional improprieties. The company assured shareholders an internal review was mostly complete.
More recently, there are signs the company is turning the corner. A bond deal with Jefferies Group that had been put on hold was revived, and the investment bank has continued to buy loans. Last week, people familiar with the matter said LendingClub has been holding talks with Western Asset Management Co., a division of Legg Mason Inc., to buy as much as $1.5 billion in the debts over time.
'Black Swan'
LendingClub is evaluating several proposals under which loan buyers would make longer-term commitments, Sanborn said in the interview, without identifying potential investors. Such arrangements wouldn't dominate the company's funding sources, but could help it sustain its business through a choppy market. They wouldn't be aimed at helping it through a challenge like the one it faced with Laplanche's exit, he said.
"These recent events were more of a black swan," Sanborn said.
OnDeck Capital Inc., another online loan platform that focuses on small businesses, swung to a $18.7 million loss in the second quarter, down from a $4.7 million profit a year earlier, according to a statement Monday.
OnDeck originated a record $590 million of loans in the quarter, 41 percent more than in the same period last year. Its provision for loan losses more than doubled to $32.3 million, which the New York-based company said was because it decided to hold more on its balance sheet rather than selling them to investors.