Goldman Says Buy Dollar on Fed, Morgan Stanley Says Not So Fast
By and
Greenback rally after jobs report spurs debate on direction

Traders await Yellen's Jackson Hole speech seeking clues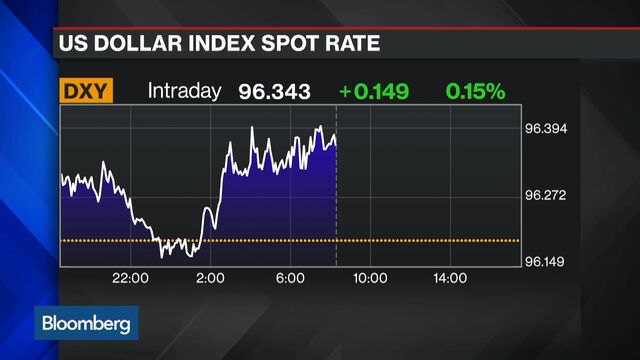 Goldman Sachs Group Inc. is telling clients to buy the dollar as the market underprices the odds of a Federal Reserve interest-rate increase this year. Morgan Stanley says not so fast.
The U.S. currency has rallied since the Labor Department released a stronger-than-forecast payroll report on Aug. 5, reviving traders' bets on a central-bank move. Robin Brooks, Goldman Sachs's chief currency strategist, said Monday the likelihood of a rate hike by year-end is 75 percent, up from 65 percent, and higher than what markets are predicting. Hans Redeker, Morgan Stanley's chief global currency strategist, said the employment gains won't be enough to raise U.S. inflation expectations.

"We remain structural dollar bulls, given our view that the Fed will ultimately hike more than markets are pricing," New York-based Brooks and Michael Cahill wrote in a note. "The big game in town remains how the Fed behaves into the end of the year." Goldman Sachs is the world's seventh-largest currency trader, according to Euromoney magazine.
The Fed speculation revives a scenario where the U.S. central bank moves toward tightening policy as other central banks add stimulus to bolster flagging economies, such as the Bank of England, which cut rates last week for the first time in seven years. With the dollar down almost 4 percent this year, traders will watch for signals when Fed Chair Janet Yellen speaks later this month at a meeting of policy makers in Jackson Hole, Wyoming.
Dollar "support is unlikely to last long, as the Fed may have no intention of allowing real rates to rise pre-emptively," Morgan Stanley's London-based Redeker wrote in a note. "We keep our projection of the U.S. economy slowing down later this year." Morgan Stanley is the world's 10th-largest currency trader, according to Euromoney.
The Bloomberg Dollar Spot Index, which tracks the currency against 10 major peers, was little changed as of 5 p.m. in New York, after rallying 0.3 percent on Aug. 5. The greenback gained 0.6 percent to 102.45 yen and added less than 0.1 percent to $1.1088 per euro.
The U.S. currency is projected to strengthen to $1.08 per euro and 105 yen by the end of the year, according to the median forecasts in Bloomberg surveys of analysts.
The futures market is pricing in about a 50 percent chance of a rate increase this year, up from 36 percent the week before. The central bank raised its target for the federal funds rate by 0.25 percentage point in December, the first increase since 2006.
"We have to see a spike higher" in the dollar as strong U.S. economic data spur the Fed to raise rates, said Jeremy Cook, chief economist at the London-based currency exchange firm World First U.K. Ltd. "There's a good 6 or 7 percent left in the U.S. dollar index in the next 12 months," Cook said in an interview in New York.