Love of Fried Food Could Curb India's Crude Oil Imports
By and
India says cooking oil can make 2 million tons of biodiesel

Government is trying to curb crude imports as economy grows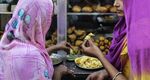 India's love for fried food could help curb its crude oil imports.
The nation of 1.3 billion people can make at least 2 million tons of biodiesel annually by processing used cooking oil from restaurant chains, said Ramakrishna Y.B., the head of an Indian government panel that's looking at the potential for fuels derived from plants.
"These are low hanging fruits,'' Ramakrishna said in an interview in New Delhi on Aug. 3. State-run Indian fuel retailers are due to announce investments in biofuels later this week, he also said, without specifying which companies.
India's crude consumption growth is expected to outstrip all other nations in the decades ahead, highlighting risks to the fastest-expanding major economy from a heavy reliance on imports. Prime Minister Narendra Modi's goal is to reduce such overseas energy purchases by 10 percentage points by 2022, through increased domestic output and greater use of alternative fuels.
"The entire 10 percent reduction in oil imports can be met through biofuels,'' Ramakrishna said.
India consumed about 22 million tons of gasoline and 75 million tons of diesel in the 12 months through March 31, both records, based on Oil Ministry data.

India is one of the top edible oil consumers in the world. Ramakrishna pegged usage at 20 million tons to 22 million tons per year. The challenge is putting in place a reliable system to collect and reuse these supplies.
The $2 trillion economy has struggled for about a decade to blend more ethanol with gasoline, and biodiesel with regular diesel. The goal this year is 5 percent blending for both gasoline and diesel. Presently, the figure for gasoline is about 3.6 percent, and there's very little mixing of diesel and biodiesel.
India imports about 80 percent of the crude it needs. The country is expected to surpass Japan as the world's third-largest oil user this year and will be the fastest-growing crude consumer in the world through 2040, International Energy Agency estimates show. 
"We have to reduce import dependency," Oil Minister Dharmendra Pradhan said at the Bloomberg Address in New Delhi on Aug. 1.
Ramakrishna said India in a decade could achieve 20 percent blending of ethanol in gasoline and as much as 10 percent of biodiesel in diesel -- if farming policies are supportive by encouraging more cultivation of biofuel crops such as jatropha.
"We just need to provide farmers quality seeds and a fair price," he said.