Don't Count on Trump or Clinton to Fix Your Bridges and Potholes
By
Merrill Lynch says capital-spending decisions should be local

Federal infrastructure bank touted by both seen as unlikely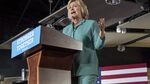 The U.S. presidential candidates are trying to outdo each other in pledging federal money for the country's crumbling infrastructure. Bank of America Merrill Lynch says they have the wrong approach.
It's best that states and cities finance their projects through the municipal-bond market because federal taxation isn't effective and lacks accountability, according to a report led by Philip Fischer, head of municipal research at the unit of Bank of America Corp.
"State and local government officials would rather decide for themselves where the stop sign goes than have it negotiated by a committee in Washington," Fischer wrote.
And despite the calls for more money, the federal government has been leery of getting involved in capital needs anyway, the report said. Democratic nominee Hillary Clinton pledged to spend $275 billion over five years and set up a national infrastructure bank, a proposal President Barack Obama couldn't accomplish in his two terms and one that dates back to the Constitutional Convention of 1789 in Philadelphia, the bank said. Her Republican rival Donald Trump is countering with a plan worth at least $500 billion.
U.S. spending is projected to fall about $1.4 trillion short of the $3.3 trillion needed through 2025 for airports, highways and other infrastructure, according to the American Society of Civil Engineers.
To get local residents' support for road projects, they need to see the beneficiaries paying for them, and that's best accomplished through user fees and revenue bonds, the analysts said.
"We believe that state and local governments would do well to invest in their own infrastructure and not give it over to the federal bureaucracy," they wrote.
Before it's here, it's on the Bloomberg Terminal.
LEARN MORE